Top-Rated Tourist Attractions in Thailand
| by Assia A. |
| Last Updated March 28, 2023 |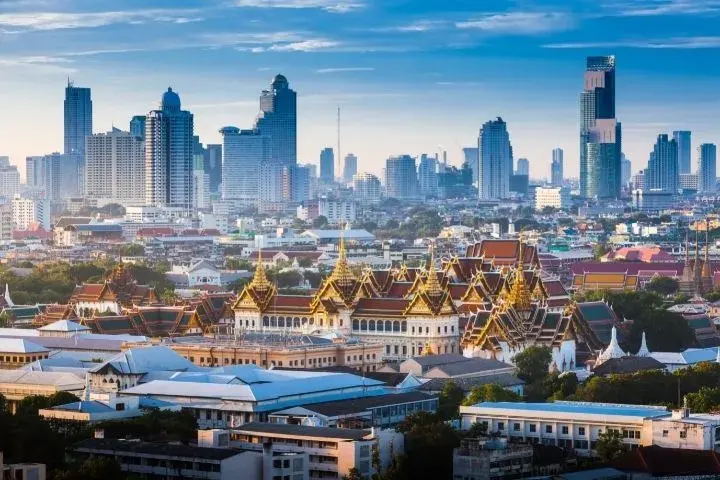 Thailand is a diverse and beautiful country with everything from modern comforts to off-the-beaten-path adventures. People travel there because they are looking to get a piece of the action, while others come just because Thailand is beautiful and artists look for inspiration.
When you visit Thailand for a vacation, it's hard to resist the urge to explore everything that this beautiful country has to offer. With its world-class beaches and amazing mountains, you'll feel like you're in paradise even after just one trip!
Thailand is a country of many wonders, such as green tea plantations, gardens, and beautiful villages. One way to experience this diverse part of the world is by trekking through the country or taking some extra time in Chiang Mai to see all that there is.
Thailand has a diverse range of tourist attractions and experiences that provide memorable moments. Top tourist attractions in Thailand can be a lot to choose from, so use this list for some inspiration.
Read More:
Top-Rated Tourist Attractions & Things to Do in Pattaya
Koh Phi Phi
The Phi Phi Islands are a popular vacation destination because of the prominent features that make these islands so worth visiting and venturing into. Clear blue waters, soft sand, and countless spectacular views. You may choose to rent a kayak or borrow a small wooden boat to get yourself to Phi Phi Don.
The experience on Monkey Beach makes it one of the more fun places to go on Koh Phi Phi and you'll be able to come face-to-face with loads of monkeys which will steal your lunches if you're unlucky.
Even though Long Beach is not a secluded place where you can hope for privacy, it's great for watching the sunset. If you're lucky and the tide is out, it's an incredible walk to the main part of the island!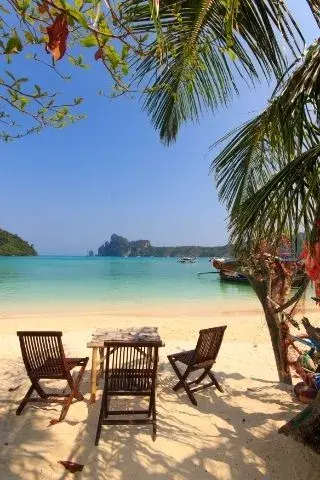 Tour operators offer packages for snorkeling and diving trips to some of the most beautiful islands in Thailand, as well as excursions to the famous Maya Bay which was where the Leonardo DiCaprio movie The Beach was filmed.
As Koh Phi Phi draws so many tourists, there are plentiful options to choose from for other beach destinations in Thailand like Phuket, Koh Chang, & Koh Lanta.
The 2004 Tsunami hit Phi Phi Don hard and destroyed many parts, but since then guests have returned in droves to make the resort island revitalize. The resort area has remained as beautiful as ever following the tragedy, though a small memorial park can be found in the middle of it to honor the lives of those who were lost.
Railay Beach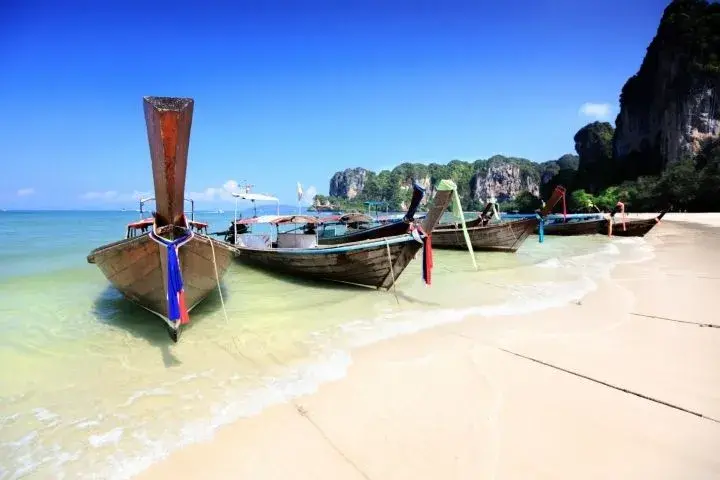 Krabi Province is home to some of Thailand's most beautiful beach destinations, and Railay tops the list as one of the most stunning. Krabi delivers on promises of white sand, turquoise-blue water & a peaceful atmosphere that visitors can enjoy. The sensation of being on this site on your first moments of vacation is something that you will never forget.
Many people visit the island as it's easy to reach from Krabi town & Ao Nang. You'll experience the magic of that small island on a traditional long-tail boat ride.
Railay Island not only offers you a beach to lounge by but also limestone cliffs, perfect for rock climbing. There are different levels of skill & experience needed to take on the most challenging of these peaks.
If you're coming to the gorgeous island of Railay, you can check out its many other activities in addition to the best ocean rafting, kayaking, snorkeling, and scuba diving. They offer classes in cooking and massage as well.
There's the Diamond Cave which is easily reached via a lovely trail with stunning views and is open for exploring. You can also take time to sunbathe or do whatever you feel like–Diamond Cave truly has something for everyone!
The Grand Palace, Bangkok
Even if you want to go to Thailand just for fun, you'll probably spend at least a day or two in Bangkok. The Grand Palace is the capital city's number one sightseeing attraction, and it's astounding in both historical significance and craftsmanship.
At first glance, the site seems to be an absolute maze of royal halls, temples, and ancient relics. But the most important is Wat Phra Kaeo- said to hold a fragment of either hair or bone from "Buddha himself.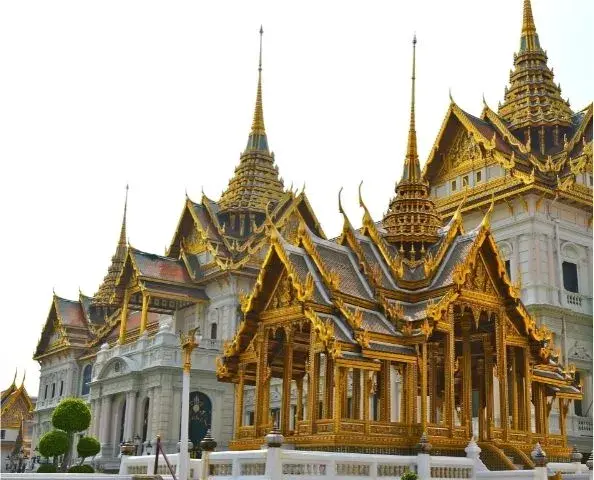 You'll want about 2-3 hours for this visit, but if you're up for more walking then you can easily visit some of the city's other major landmarks nearby. Wat Arun and Wat Po are famous temples found within a few miles of each other that are accessible by foot.
Chiang Mai – Sunday Walking Street
Every Thailand visitor looks forward to cheap & delicious food–and that's exactly what they can find in abundance at Chiang Mai's Sunday Night Walking Street. Vendors sell all kinds of treats here: from the popular Thai cuisine, like pad Thai, sweet roti, fried bananas, and exotic fruit juice at very reasonable prices.
After you've fulfilled your food cravings, pop into some of the nearby stalls showcasing unique products, such as natural soaps, handmade textiles with unique designs of local hill tribals, incense, essential oils, musical instruments.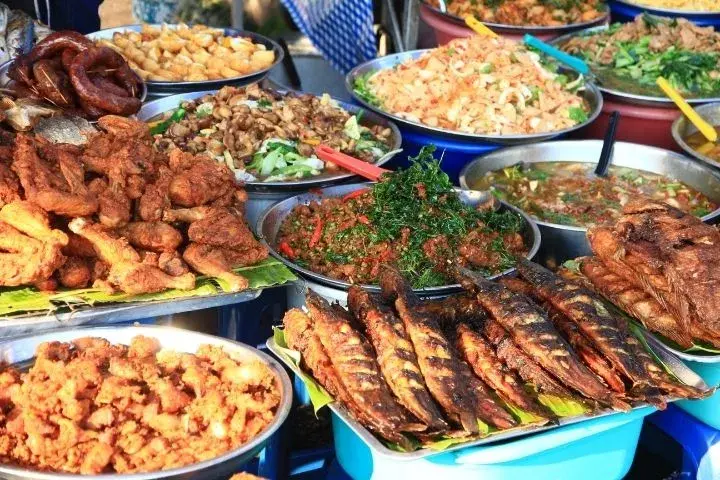 Visit this crowded market any time of the year and know that you'll be part of a bunch of people who enjoy being there as well. Soak up the atmosphere of this incredible experience and have lots of fun!
This is a must-do when in Chiang Mai, and will immerse you into the Thai culture. If you're not around for the Sunday market or just want to check out more markets in Chiang Mai, you should check out the Saturday Night Walking Street, or the Night Bazaar on Chang Klan Road. For something different and not very touristy, go to the daytime Warorot Market, near Mae Ping River.
Khao Yai National Park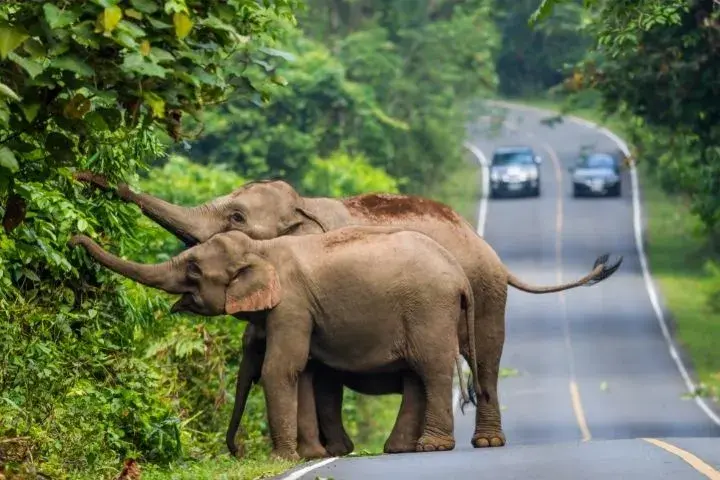 Elephants in Thailand are revered, and you'll be amazed at the number of paintings and statues of them you'll find in this beautiful country. For the ultimate experience, however, nothing beats seeing elephants in their natural habitat. You can see elephants during a trip to Khao Yai National Park.
Here, you'll enjoy a close encounter with elephants, birds of prey, monkeys, and other interesting creatures that took this park as their home.
One of the park's specialties is its many waterfalls, including the 150-meter-tall Haew Narok and the even more famous Haew Suwat. It has been featured in many well-known movies such as "The Beach" by Leonardo DiCaprio.
If a one-day stay won't do it, there are plenty of additional ways to spend time in the area. Perhaps you'll want to take a hike and see the sunrise over the beautiful landscape, set up camp and spend time sleeping in nature and spend a full day in peace.
Pai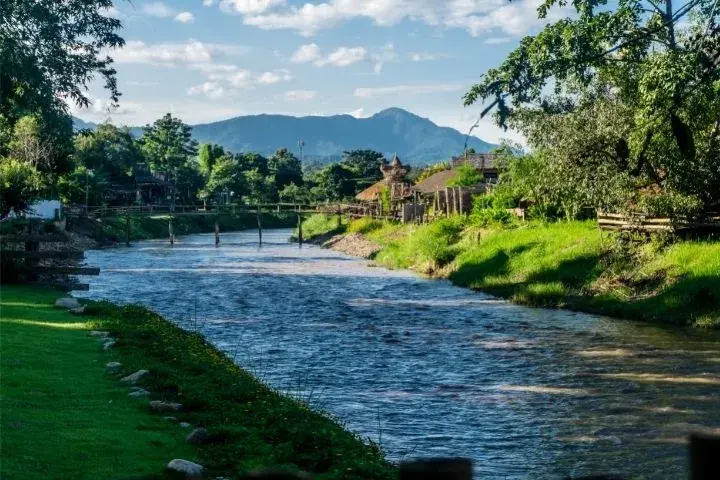 Thailand has many various landscapes, but the country is most known for its beautiful southern beaches. Because it isn't commonly thought of as a major tourist destination, many people don't realize that it also has some cool sights in the north such as diverse landscapes and amazing places to see.
An interesting blend of different landscapes in Northern Thailand, rugged jungle terrain with beautiful mountains near the border of Burma. North of the central region of Thailand, Mae Hong Son province is one of the most diverse parts of the country. You can start with the small town" Pai" and experience authentic Thai culture as well as its natural beauty and delicious cuisine.
This quaint town is a haven for those seeking a natural environment, with great features at relatively affordable prices.
Every night of the week, a thriving street market comes alive and offers western and local cuisine that's easy to find. Sitting nearby is a beautiful hiking trail and nearby temples with offerings to Buddha and the amazing Pai Canyon.
As you walk through the town, people are everywhere. Many of them seem to be in a good mood and are enjoying their time. Even though it is located in a remote area, the number of visitors is increasing year after year.
The Old City of Sukhothai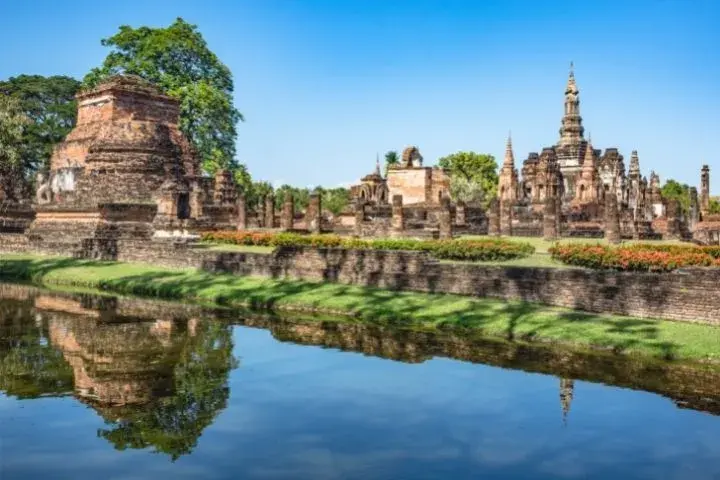 Sukhothai might not be as popular as Ayutthaya, but it has a few photo ops that will pique your interest. Advancing onward through the city's ruins will show you hidden gems worth exploring or even stopping for on your way to some other destination in the region.
As one of Thailand's oldest and most significant historical sites, Sukhothai's Old City is a UNESCO World Heritage site. Much has been invested to preserve and restore the historic site.
Sukhothai is home to many of Thailand's holy sites, and Wat Mahathat is one of the most impressive temples in the country. The large standing Buddha images are surrounded by stuccoed sculptures, several towering stupas, and its sprawling grounds.
Koh Samui Beaches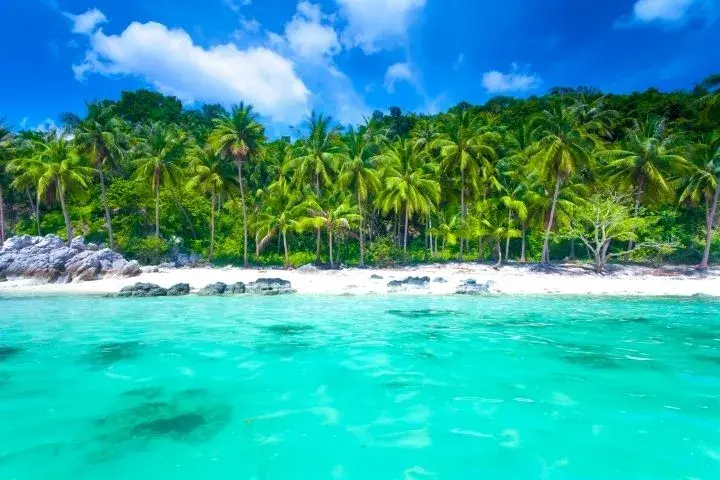 Koh Samui is an island with some of the most beautiful beaches in all Southeast Asia. Each beach has its personality and destiny. The ones that are peaceful and private can be found around the northern part of the island while those in public places like a beachfront hostel or resort offer a different experience.
The beach at Chaweng is the island's biggest and busiest with some of the best shops, attractions, and restaurants. The beautiful turquoise-blue water and palm trees dancing in the ocean breeze are good reasons to visit.
When heading south of Chaweng Beach, you'll be getting to Lamai Beach. It's a little smaller in size but still has enough going on during the day that a busier volume of tourist clients visit daily.
For those who are on a limited budget and traveling for vacation, one of my favorite beaches to go to is Maenam. There's plenty to do and plenty of fun things to buy and surfers love it too! Bophut is also a great destination, particularly for visitors wanting a traditional Thai experience.
If you're looking for the best Thai-Chinese shophouses in Koh Bophut, then this is the place to be. With many tourist attractions nearby and a sense of luxury, visitors are sure to be thrilled by their stay here.
If you're looking for a beach that's out of the way and private, Silver Beach is one option. It's tucked in behind hills and offers stunning views from all sides. Not only that but there are many dive spots close by to explore while you relax on the shore and it is a beautiful spot for snorkeling.
Ayutthaya Historical Park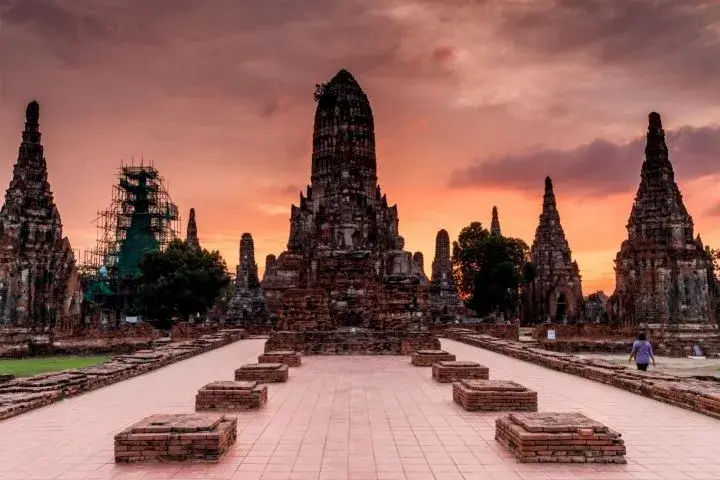 Ayutthaya was the capital of Siam for almost 400 years, and it is one of the most extensive ruins in Asia. During its golden age, Ayutthaya was a cosmopolitan city that attracted traders from around the world. The city's history is silent but romantic and the ruins give you a glimpse of the ancient capital city.
There are more than a hundred wats, chedis, prangs, and shrines in the Ayutthaya Historical Park. Some of the sights like the temple that houses a 12-meter long reclining Buddha or the tree roots embracing a Buddha's head are truly impressive.
To get a good sense of the ancient capitals of Thailand, you might want to take a day trip to Ayutthaya. A short bus ride or train ride will get you there, and this city contains so much more than that initially lets on. But if you want to soak up some history while also enjoying the company of your friends and family during your stay, consider expanding your visit for a couple of days.
Doi Suthep
It is mostly believed that the best-known wat in Chiang Mai is Doi Suthep, a mountain overlooking Thailand's second-largest city. A favorite destination of devout Buddhist followers and travelers from all over the world, it is one of the most known tourist attractions in Thailand. The intricately carved temples of Doi Suthep are a marvel to behold. You'll see monks praying, witnessing worship rituals, and getting to see the city and how it's grown over time.
Make sure to pack your walking shoes in your carry-on baggage and bring a bottle of water. The trek from the bottom to the top of the hill where the temple is located is steep!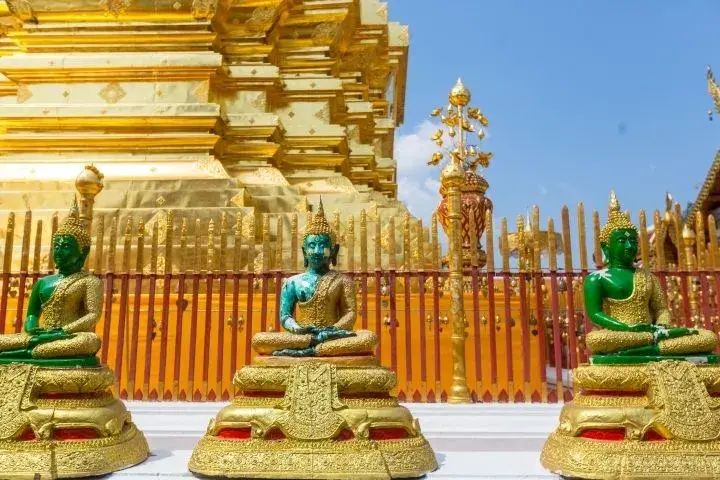 With vendors at the base of the stairways, you can buy local favorites and also supplies from the surrounding mountains. There are also great masks, elephant carvings, home furnishings & things that you can buy while browsing.
Doi Pui is a small Hmong village that lies in the mountains, and visitors can combine it with trips to Doi Suthep. This is a tourist town, but it's also a fascinating way to learn more about the Hmong communities in this region, and the many ways they create beautiful textiles. It's a great place to purchase handicrafts.
There's also the Bhubing Palace, a sightseeing destination in Chiang Mai and located on the way to Doi Pui.
Tonsai Beach For Climbing Enthusiasts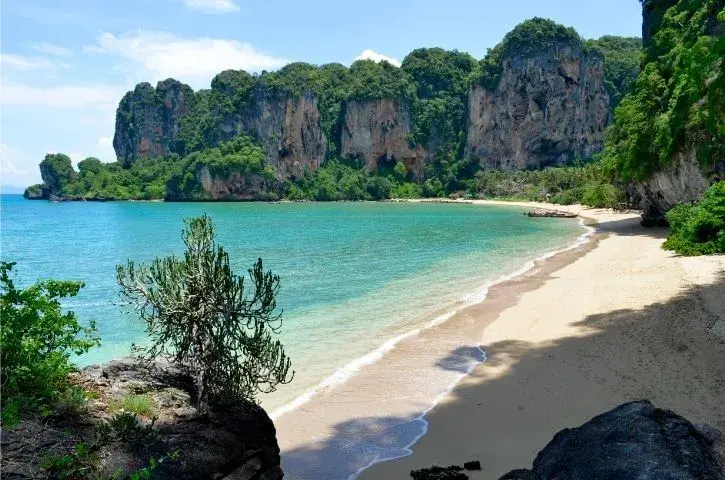 Whether you're coming in for climbing or just a visit, Thailand has an array of different destinations that will make a lasting impact on you. One of these destinations is Ton Sai Bay – where the limestone cliffs beautifully hug an aquamarine sea and the weather is always warm and sunny. It's easy to go climbing here, whether it's for a solo climb or finding a partner & club once you arrive. If you need a refresher, it is available to find.
Because the area has many climbing and bouldering schools, the easier routes are often crowded, and you might have to queue to get up to the most popular viewpoints. If you're looking for peace & quiet on your outdoor adventure, keep your eyes open for a quieter route!
Professional climbers with good timing and skills will get the best spots on this rock formation. They're almost all to themselves, they have stunning views of the bay below, and they're still in full view of the crag.
Kanchanaburi Bridge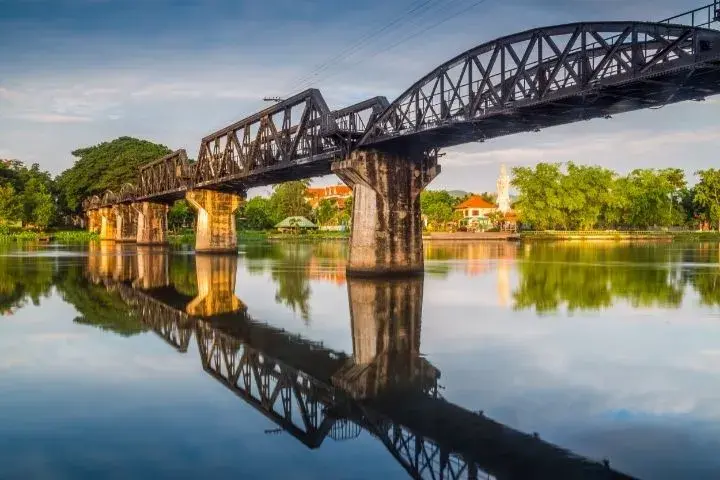 Some of the most notable bridge structures on earth are those in Kanchanaburi, Thailand, which were utilized on the Thai-Burma Railway that never came to be.
Allied prisoners were often used as forced labor during World War II. While the stakes were high, many people did not make it out alive. It is estimated that more than 12,000 Allied prisoners of war died during the construction and reconstruction of the "Death Railway." It is even more amazing considering how many times it was bombed and damaged. Its nickname came from its dark history.
The bridge was closed for many years after the war, but now it has been brought back up to its original levels. Now it can be crossed by boarding a local train that travels slowly across the bridge. Only 30% of the length of the original railway route is in use today.
Just south of the bridge is the Kanchanaburi War Cemetery in Thailand, you will find many remains of soldiers killed in the war. The United States is the only country that has repatriated its soldiers' remains.
The Hellfire Pass Museum and the JEATH War Museum both offer interesting information on how the Great War impacted Thailand.
Erawan National Park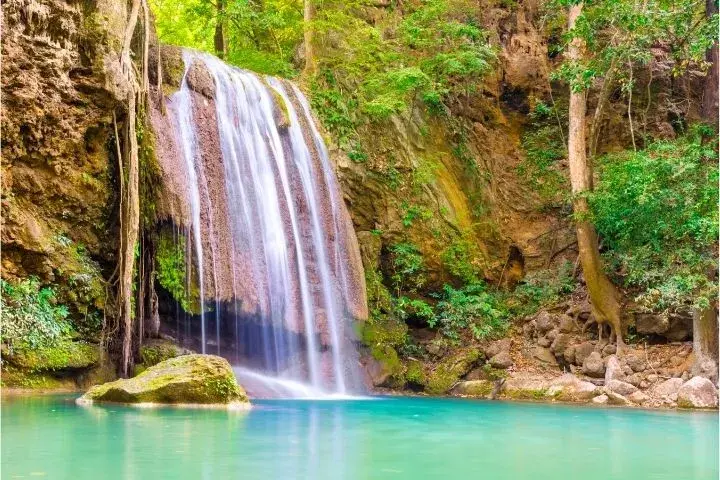 Erawan National Park is a gem for visitors who come from all over the world. There are plenty of striking attractions that will keep you entertained, whether it's a cave to explore, a forest path to wander through, or wildlife that includes elephants, gibbons, and hornbills.
But the best part is the Erawan Falls in particular. Not only are they stunning to look at, but they're also popular tourist attractions.
The falls are named after the white elephant that travels with the Hindu god Indra because it is-as said- to resemble slightly an elephant's head.
The Fall is an organic structure consisting of 7 tiers, each with its name and the increasing difficulty to reach. It gets progressively harder from the first tier to the last, requiring visitors to use slippery ladders while they pass through thick plant life. You might not even make it past the fifth tier!
Enjoy the spectacular scenery of the Emerald Pool, a small cave through the first 3 levels of the waterfall. The cool water cascades down into a beautiful pool which is home to much curious fish that might even swim between your feet!
Maruekhathaiyawan Palace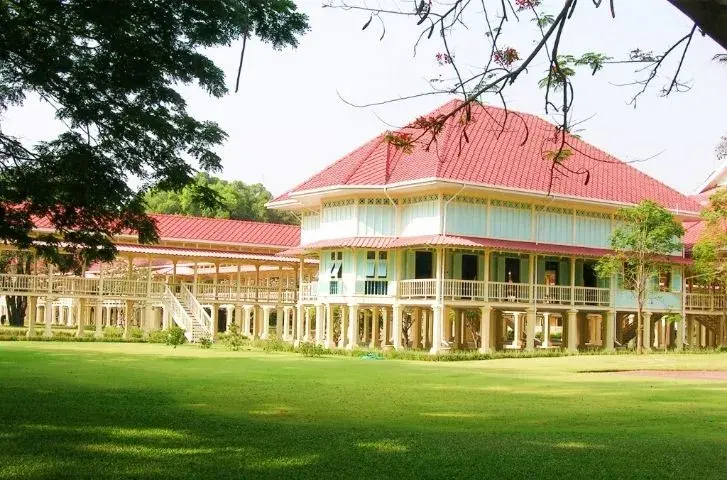 Built as the summer residence of King Rama VI in 1923, this unique teak-wood palace is stunning in many ways. The king originally ordered its construction following a piece of advice by his doctor, who thought an airy seaside climate would help with his ills.
The Palace was constructed in Hua Hin, a sleepy seaside town about three hours south of Bangkok. This historic fairytale-like spot is now a popular destination for families and travelers looking to enjoy the beach in a relaxed atmosphere away from the noise of touristy sites.
Maruekhathaiyawan Palace was built atop stilts on the beachside to minimize the impact of sand and maximize airflow on every corner.
The palace complex is made up of several buildings divided into three main groups: the reception area for public officials; the private areas for the king and his family; and the ladies' quarters originally designed for the Queen and no other man is allowed to enter except for the king.
The palace is a mix of Western, Thai, and contemporary elements that create an exquisite space that you can enjoy today. The building is filled with architectural marvels and provides valuable experiences from across the globe. It's a must-visit for any visitor to Thailand and is one of the nation's most iconic structures.
Khao Sok National Park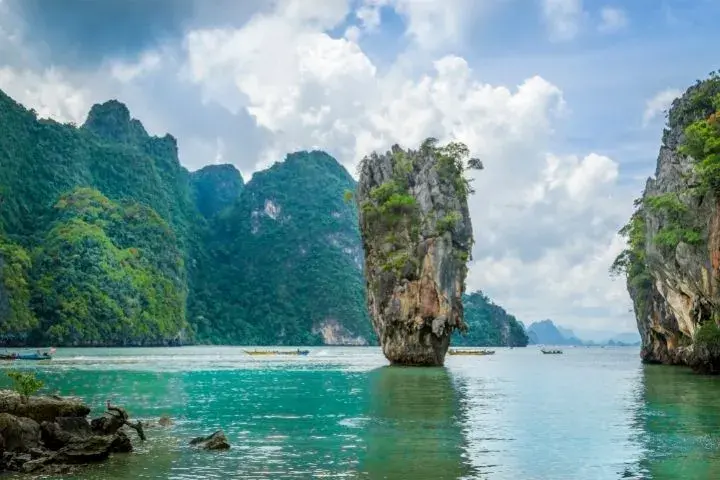 Khao Sok National Park is a uniquely diverse mix of ecosystems. With rain forest so old it rivals the Amazon, and limestone mountains that are covered in caves and karst formations, the park also has miles of trails, and even a river you can explore on a raft or a small boat. This rain forest is home to a variety of animals, from sun bears and tigers to wild elephants. It's easy to spot these animals once you get further into the forest.
Camping in the park is also famous for its eco-luxury offerings – upmarket bathroom facilities and premium amenities in the tents themselves. These offerings only add to the incredible aspects of your Thailand experience!
Floating Markets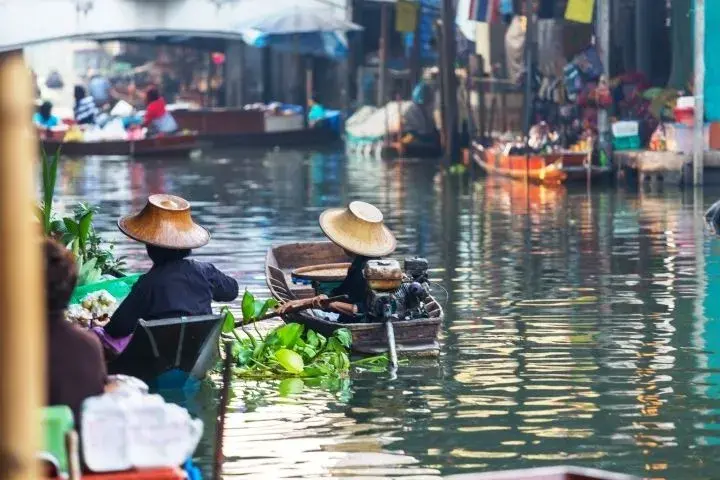 If you're looking for some unique experiences while shopping, Thailand is famous for its floating markets. With local vendors and an opportunity to explore a traditional way of life, they offer an unforgettable look into traditional Thai culture.
While some of the touristy markets are a part of the experience, others make for a nice authentic travel experience that involves getting into a boat and talking to people on your way through canals where you'll see traditional stilts houses and its inhabitants offer selling traditional products.
Try to get up early & visit the floating market. Vendors will be out early in their boats and you'll have the chance to purchase fresh fruits, vegetables, and spices. Additionally, you'll be able to try out some tasty dishes!
Floating markets are popular tourist attractions in Thailand. Check out a local agent to find the perfect one for you.
Explore More Destinations:
Top-Rated Tourist Attractions in Italy
Top-Rated Tourist Attractions in Egypt
10 Top-Rated Tourist Attractions in France
Top-Rated Attractions & Things to Do in Morocco
Top-Rated Tourist Attractions in Brazil

Tours & Excursions in Thailand
Visa & Health Requirements
Please make sure you check all the information you need to know about the passport, visa, and health requirements of your destination.
Check out all the data provided by IATA (International Air Transport Association)
Share This