Top-Rated Tourist Attractions in Mombasa & Easy Day Trips
| by Assia A. |
| Last Updated March 29, 2023 |
Mombasa is an island on the East Coast of Africa. It's the second-largest city in Kenya and is connected by bridges and ferries to the Kenyan coast. This tourist hub offers travelers an exotic taste of the African tropics steeped in centuries of seafaring history.
Mombasa's beach resorts are situated along the coast north and south of the city. Some of the best beaches in the world lie within the city limits of Mombasa. Some of these include Diani Beach, which is a popular family beach, and Bamburi Beach, which has some of the most beautiful and luxurious beaches in East Africa.
The island offers visitors an array of activities including snorkeling, diving, and fishing in nearby waters. Some of the most popular attractions in Mombasa are diving, boat tour daily trips for dolphin spotting, and the island's snorkeling tours which offer the chance to view sea life in its natural habitat.
But in the city itself, on the bustling island, you can explore the island's history, see the local arts, and enjoy unique cultural experiences in a very humanistic city. Here, it is important to know what to do to ensure a great time while you're in the city itself.
Mombasa was the most important trading center in East Africa, That's why it is known for its diversity of cultures as a result of the many immigrants from different countries settled here. With a history spanning several centuries, Mombasa has been influenced by various cultures including those of the British, Arabic, Indian, and Omani. As a result, its architecture and cuisine are a mix of these cultures.
Experience Old Town! A walk along the narrow streets will take you back in time as you visit ancient buildings and see a unique culture. Be sure to visit a local market to get your hands on some fresh produce. Beyond the city, wildlife parks, villages, and ancient ruins round out the wealth of water-based fun.
The following list of the top places to visit with our best recommendations and top picks of the top tourist attractions in Mombasa.
Read More:
Top-Rated Tourist Attractions in Kenya
Fort Jesus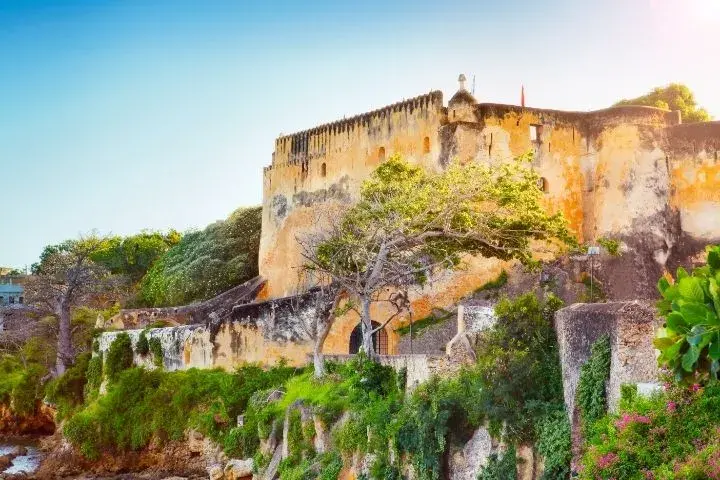 Fort Jesus is a UNESCO World Heritage Site and one of the top tourist attractions in Mombasa and is one of the most visited places in the city. With its Italian design, it is considered one of the world's best-standing examples of 16th-century Portuguese military architecture.
The Fort was named in honor of Jesus. This was done to make it clear that the fort was a religious shrine. In fact, it changed hands several times between the 17th and 19th centuries until it finally became under the control of the British.
Although the site has been partially damaged, The fort houses a museum still stands over the ruins of the garrison. The exhibits include an expansive collection of ceramics and artifacts from various cultures and traders that influenced the city over time.
Fort Jesus is a compound with many structures inside, including an old Omani house built in the 18th century that is currently occupied by Omani jewelry and displays on Swahili life. The Passage of Arches was cut through the coral to provide access to the sea.
Haller Park
Haller Park is a beautiful park in Mombasa Kenya. Dr.René Haller was the man who made the park possible. In 1971 He wanted to create a park where people and animals could enjoy nature in a safe environment. Since then, it's become the home for a variety of species, and it's become a haven for wildlife.
Dr. Haller created a thriving ecosystem where he had the opportunity to develop a diverse wildlife park. He did this by increasing the mineral content of the soil, planting trees, adding a fish farm, and creating a wildlife park where each animal has a function within the thriving ecosystem. you can find here giraffes, Cape buffalo, zebras, waterbucks, and hippos.
A highlight of a tour is watching the giraffes feeding on close range, but be aware that they might be in a no-go zone, so check ahead to avoid getting stung.
This park is also a haven for birders where they can find more than 160 species have been introduced to the park and including several types of cranes, pelicans, and storks. This is a very interesting park and you can visit in the spring or summer months to see the birds in their natural habitat.
Walking and cycling paths are the main roads along the park. There are a variety of things for visitors to see and do within the park, including a reptile park, a butterfly pavilion, and a crocodile pen.
If you're interested in seeing more wildlife, consider checking out Nguuni Wildlife Sanctuary, just 15 minutes by car outside of Haller Park. Here you'll be able to see lions, giraffes, eland, ostriches, and many other species of wild animals. It's one of the most unique places for a picnic in Mombasa.
Mombasa Marine National Park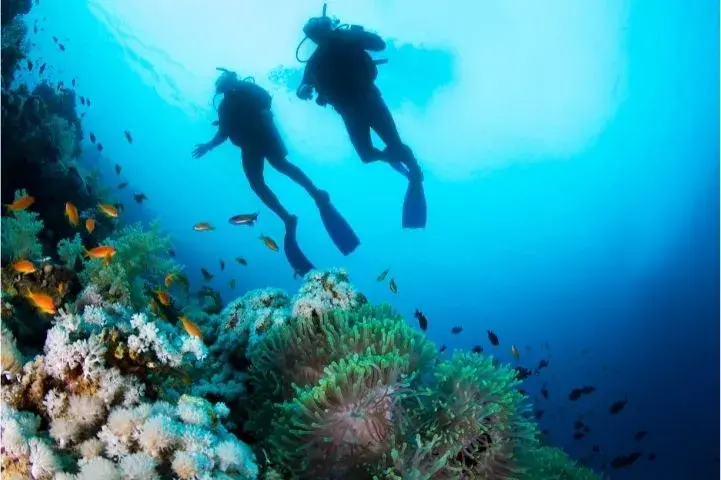 A popular diving and snorkeling destination on the coast of Kenya, Mombasa Marine National Park protects mangroves, seagrass beds, sandy beaches, and coral reefs. It's particularly well known for its diving and snorkeling south of Mombasa, between Mtwapa Creek and the Likoni area.
There is no shortage of underwater life in the marine reserve. You'll find seahorses, stingrays, and even eels, but if you want to take a trip below the surface, you can get a glass-bottom boat and view all the diversity of marine life that makes the reserve so special. The marine park is accessible through the popular beaches of Nayali, Bamburi, and Shanzu.
North Coast Beaches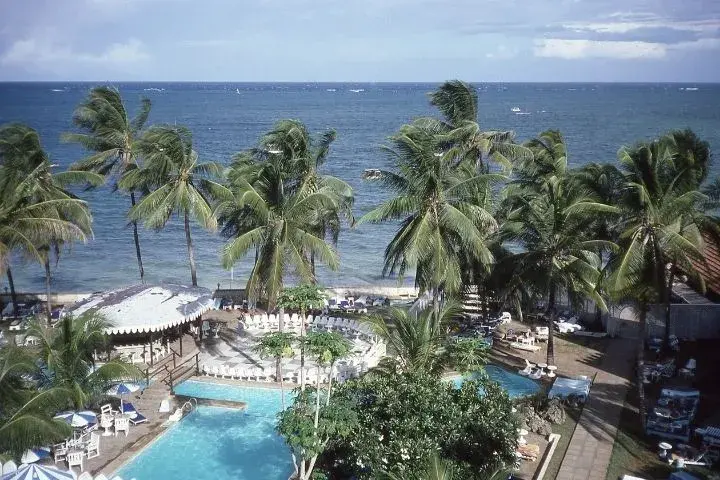 Beaches in Mombasa, like those in any other city, will vary based on the time of year, the day, and the season. However, you'll find that the north is typically more energetic than the south. The north beach is a better choice for visitors, there are lots of things to do here, from sailing to scuba diving to surfing and all other sorts of fun, they can also enjoy the convenience of the north's proximity to the airport, the oceanfront resorts, the shopping districts, and major tourist attractions.
The Mombasa Marine National Park borders the coast here, with coral gardens and marine life found around the park's reefs and shipwrecks. The MV Dania is one of the park's most popular attractions.
Traveling north from the coastal town of Mombasa, Nyali Beach is one of the most visited beaches in Kenya. The white sandy beaches and warm water make this a favorite destination for sun-loving tourists.
Furthermore in the north, the area around Bamburi Beach is a popular tourist destination with several lodging options, ranging from luxury resorts to beach bungalows. One of the best activities here is camel riding along the beach.
Shanzu Beach is a lovely spot to go for a day trip from Mombasa. It's just a short distance north, with some great beaches along the way. Snorkeling, scuba diving, and glass-bottom boat rides are all popular things to do here.
Old Town
Old Town, Mombasa is a popular tourist destination on the southeast coast of Mombasa Island. With a rich history and a diverse population of African, Asian, and European descent, reflecting the culture and influence of each of their respective nations.
The historic center of town is lined with gorgeous old townhouses, old churches, and cobblestone streets, which all add up to the unique charm of an old European city. The old town offers lots of shopping opportunities for local products, spices, and souvenirs, there are plenty of food choices in Mombasa's old town, including fast food and other casual dining options. In fact, one of the great things about Mombasa is the variety of food choices. Mombasa's top tourist attraction, Fort Jesus is located on the harbor.
South Coast Beaches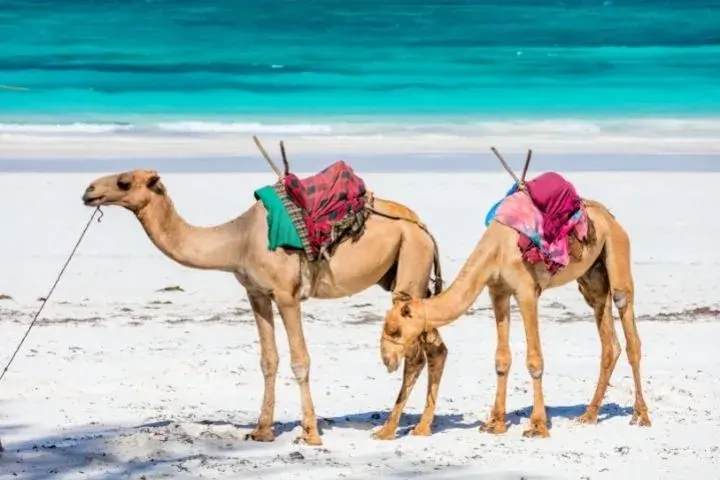 The coast south of Mombasa, Kenya, is a world of natural beauty. Its beaches are famous for their turquoise waters and for their ability to attract large numbers of tourists. it is a beautiful and peaceful stretch of beaches that can be explored in a day. With abundant wildlife and abundant sea life to keep you busy, the south coast is an idyllic vacation spot.
Diani Beach is among the most famous Mombasa beaches. However, it's not the only one. It's also the most developed area south of Mombasa and it's a popular choice for tourists visiting the area.
There are so many water-based activities here to enjoy from sailing, swimming, kayaking, and windsurfing to snorkeling, scuba diving, and parasailing, The beach is not only the place where most tourists go to relax but is also the place where people go to unwind at night.
If you are looking for a beach with fewer tourists, try Tiwi Beach. It's located about 17 kilometers south of the Likoni ferry on the southwest coast of Kenya. The views are excellent as you sunbathe or snorkel along the coastline. It's also one of the most romantic places in the country.
Mombasa Tusks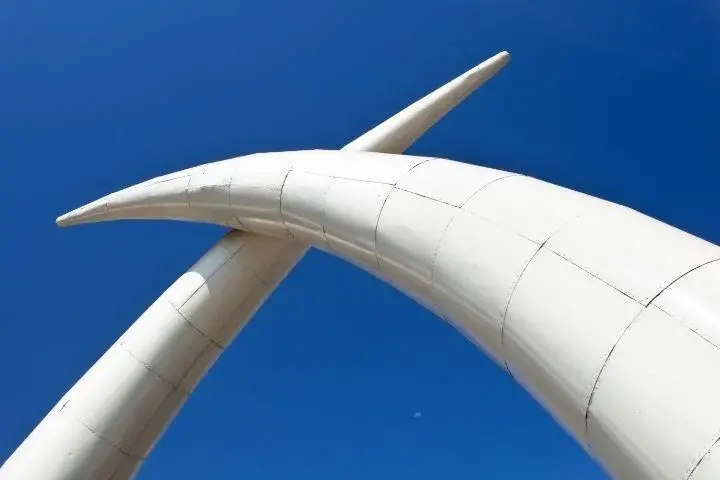 The Mombasa Tusks are one of the most notable landmarks of the city and make a great photo-op. They also act as a gateway into downtown, where you can find many of the banks, shops, and markets.
In order to get some amazing shots from the intersection of Mombasa Road and Londiani Avenue, you'll have to negotiate your way through the congested traffic first. And you'll also notice that the two tusks form the letter "M" for Mombasa.
Mamba Village Centre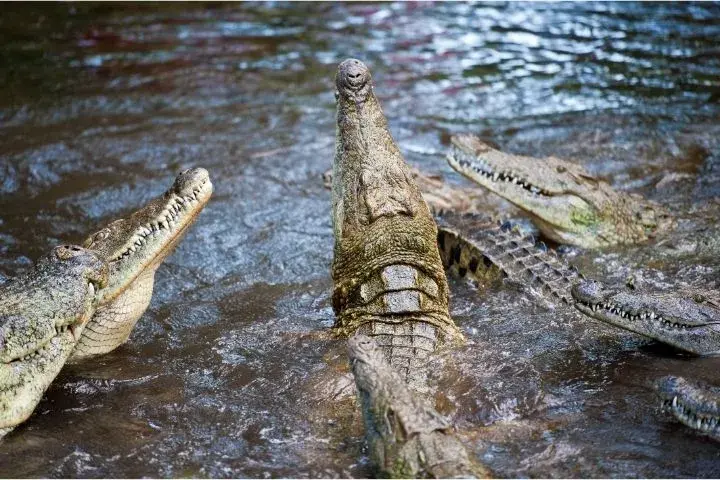 Mamba Village Centre is a great place to learn about crocodiles. It is located at Nyali and it is the largest crocodile farm in East Africa, here you can experience the thrill of holding a baby croc, and also see the big ones feed. The best part is watching them fight over food during feeding times.
Mamba Village Centre also offers a lot of activities for visitors. Horseback riding, a botanical garden, and a botanical aquarium are just a few of the things offered. The gardens showcase carnivorous species, orchids, and aquatic plants, but also house fish and reptiles.
Exotic food lovers will be interested in the restaurant and its special menu of meat from crocodile to ostrich and zebra!
Bombolulu Workshops and Cultural Centre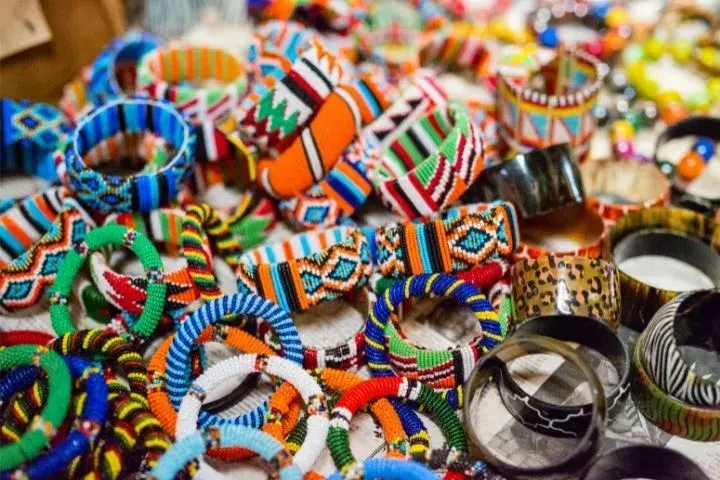 Bombolulu Workshops can provide you with more than just products to buy. It's a non-profit organization that provides sheltered workshops for disabled people, a cultural center, and a restaurant, and that means you can buy products while simultaneously helping them.
If you're looking for cultural exhibits, performances, and authentic homesteads, then visit the Culture Centre at the heart of Kenya's capital, Nairobi. It's an interesting way to see what life is like in Kenya's diverse communities and see how people live in the wild.
If shopping is your high priority, you can visit the workshop to learn about the history of this area and buy handmade souvenirs. These crafts include jewelry, textiles, wood carving, and leather. Proceeds help sustain the center's work. After touring the grounds, stop by the restaurant to taste the local cuisine.
Mombasa Go-Kart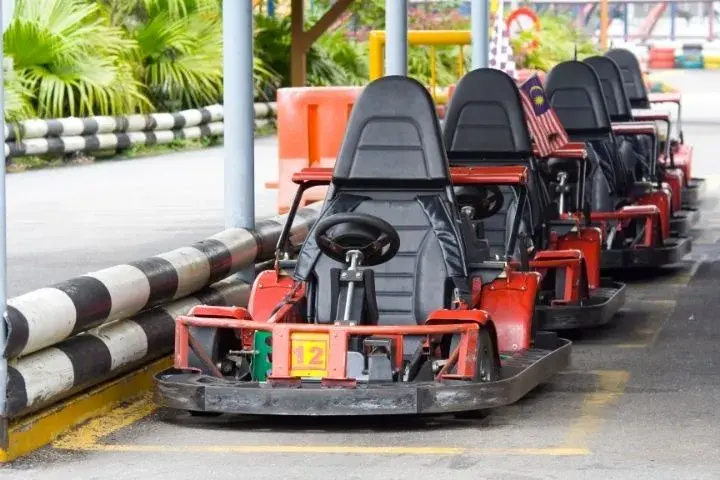 Mombasa Go-Kart is a fun place to enjoy some family time. With plenty of open track and plenty of things to climb on, there is something for everyone here at Mombasa Go-Kart.
After all the enthusiasm, the last thing you want to do is sit down at a family-friendly restaurant and grab a snack where video games are available, big screens displaying sports events.
Day Trips from Mombasa
Wasini Island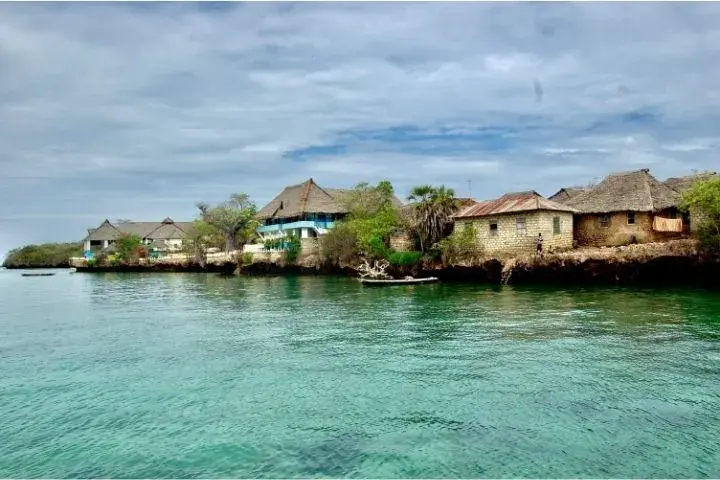 Wasini Island is the most accessible island on the Kenyan coast. It has become a popular day-trip destination for tourists looking to get some sun and relaxation. Dolphin watching and snorkeling are popular activities on the island.
The island itself is small – only 5 sq. km. There is no real beach, though there are white sand beaches and turquoise waters off the east coast. Sightseeing opportunities are limited to visiting the Wasini Village or exploring the coastal scrub and the ancient Swahili ruins.
The village of Shimoni is home to both the Shimoni Caves and the Wasini Islands. This unique location is where tourists get the chance to explore the Shimoni Caves, a place known as a holding site for slaves before they were shipped off to Arabia.
Kisite-Mpunguti Marine National Park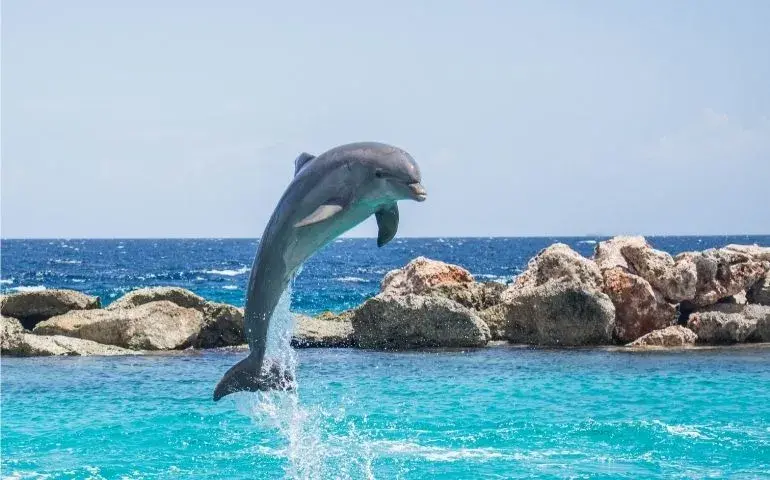 Kisite-Mpunguti Marine National Park is popular snorkeling, diving, and dolphin spotting location. The park is located south of Wasini Island and includes four small islands. There's nothing like exploring the sea life in the coral reef surrounding the islands.
The Shimoni Channel is a major migration route for several types of marine life including dolphins, humpback whales, angelfish, moray eels, grouper, snappers, and green sea turtles. While deep-sea fishing can be enjoyed off the coast of Pemba Island.
Shimba Hills National Reserve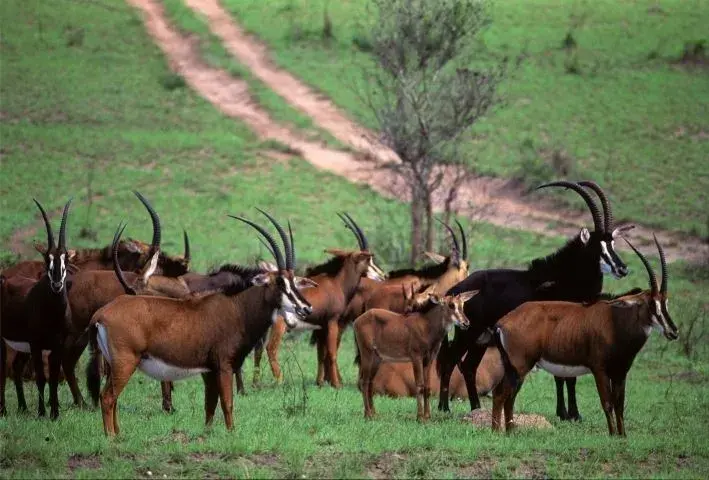 Shimba Hills National Reserve is a quiet getaway from the busy beach resorts. It's about 33 kilometers south of Mombasa, just off the highway at Thika.
This is one of the most visited parks in Kenya and one of the best places to spot elephants. In addition to spotting the largest land mammals in Africa, visitors can explore one of the few remaining concentrations of rare cycad and orchid plants. Other species include leopards, sable antelope, and plentiful birdlife.
Guided Forest Walks are a great way to see some of the best spots in the Mbulu area. It's also a great way to get to know the land and get out and about. you can cool off at Sheldrick Falls and have a swim at Machenmwana River!
Ruins of Gede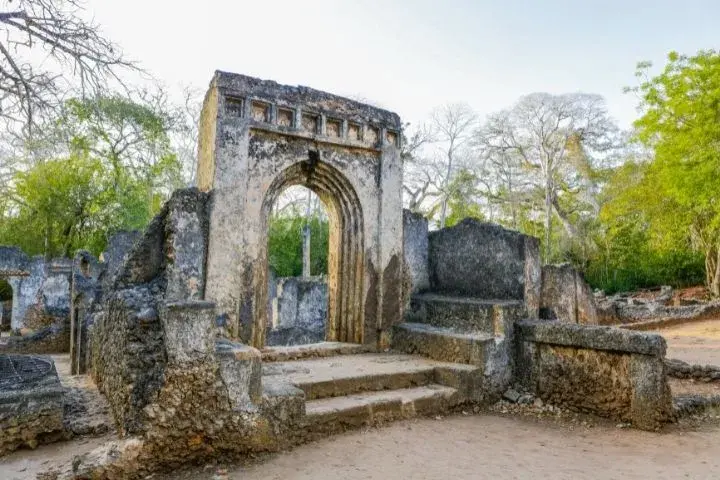 Gedi was a thriving trading town on the shores of the Indian Ocean, but today only a small fraction of its ruins remain. The ruins include the Great Mosque, the Palace, coral-stone houses, and pillar tombs.
The houses in Gedi represent a traditional Swahili style. The style of the homes has roots in the Swahili, Arabian and Persian influences that have been passed down over centuries. Ceramic vessels, ivory, wood, brass, and other materials were traded along with textiles, some Spanish scissors, and Swahili artifacts are all exhibited in a small museum on-site.
Arabuko-Sokoke National Forest
The Arabuko-Sokoke Forest is one of the largest remaining indigenous forests in East Africa. It is also home to hundreds of rare species, including 260 bird species, butterflies, amphibians, and plants. it is home to some mammals including the golden-rumped elephant shrew, bushy-tailed mongoose, and Ader's duiker. Nature lovers will enjoy picnicking in that forest.
Watamu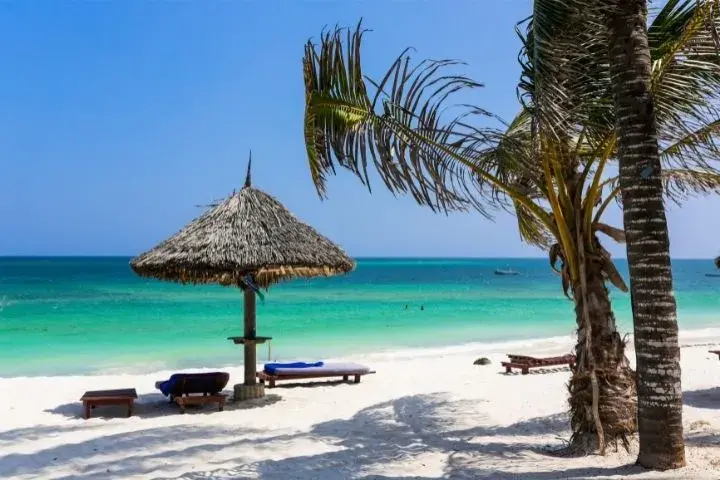 Watamu is the oldest Swahili fishing village along the Kenyan coastline. It's a popular destination for people looking for a laid-back vacation where they can relax on the beaches. This coastal town boasts the most beautiful beaches along the coast, with crystal clear water and a nice mix of tourists and local people.
Watamu is an amazing place to visit. It has some incredible coral reefs, one of the best beaches on the coast, and it's home to the largest population of sealife in East Africa. The village is also home to a large breeding area of endangered hawksbill and green sea turtles.
Glass-bottomed boats take you out to the reefs and let you get up close to colorful fish, sea turtles, and sharks. Windsurfers take to the ocean breeze and relax. Dolphin-watching trips allow you to swim with these playful mammals and see their natural habitat.
Kilifi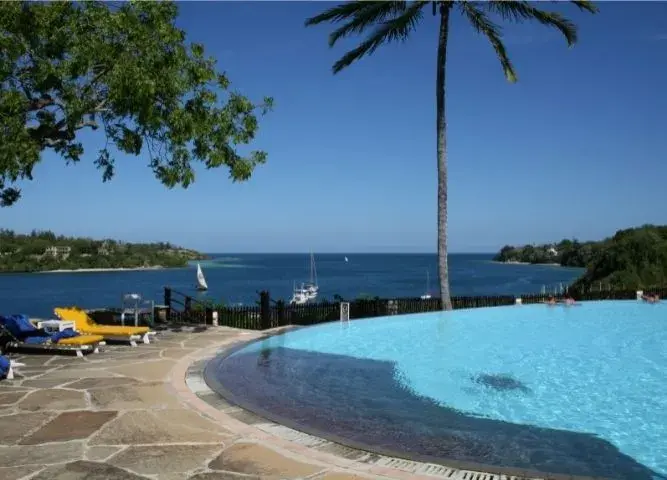 Kilifi is a beach town on the coast of Kenya. Located next to the popular Mnarani ruins it is one of the main attractions in the area. The ruins were once a flourishing Swahili trading port which now dates back to the early 14th century. A huge baobab tree in ruins is rumored to be the largest on the Kenyan coast. With the completion of a new bridge, Kilifi has become much easier to reach. While previously residents of Kilifi needed to take a boat, and then a bus, they now can get to the coastal town by road.
Tours & Excursions in Mombasa
Explore More Destinations:
Top-Rated Tourist Attractions in Kenya
Top-Rated Tourist Attractions in Cairo, Egypt
Top-Rated Tourist Attractions in Marrakesh, Morocco
Top-Rated Tourist Attractions in Luxor, Egypt
Top-Rated Tourist Attractions in Italy
Top-Rated Attractions & Things to Do in France
Visa & Health Requirements
Please make sure you check all the information you need to know about the passport, visa, and health requirements of your destination.
Check out all the data provided by IATA (International Air Transport Association)
Share This