Top-Rated Tourist Attractions in Kenya
| by Assia A. |
| Last Updated March 29, 2023 |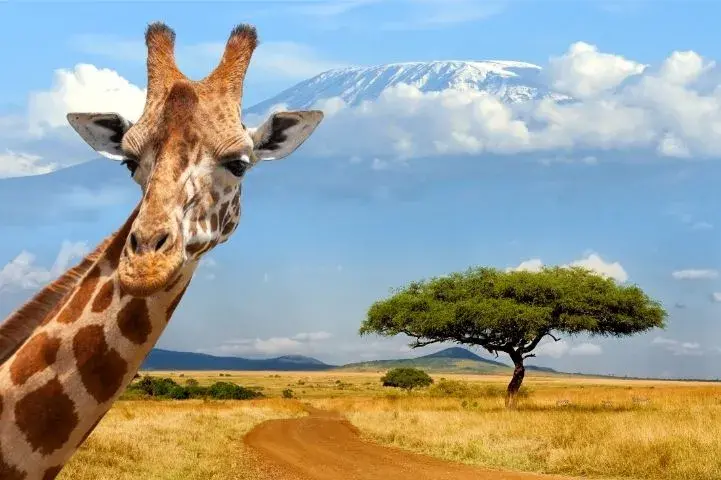 Kenya is an African nation full of diverse nature and a plethora of opportunities for adventure. It is a safari hotspot for all who want to see Africa in its natural beauty and diversity. It has something for everyone whether it's mountain climbing, bird watching, white water rafting, camel trekking, or simply relaxing by the pool, Kenya will certainly not disappoint.
Wildebeest thunders across the savanna during the Great Migration. Come eye-to-eye with elephants in Amboseli. Be amazed at Lake Nakuru, flecked with thousands of flamingos. These sun-soaked lands are home to many different tribes, who still maintain their cultural traditions and ancient lifestyles.
While tourists always think of safari as the main tourist attraction in Kenya, they also have a number of options for spending their time away from the animals. Travelers can enjoy the beaches of Malindi and Mombasa, or relax in the towns of Lamu and Kilifi, where you can find a rich history, great food, and breathtaking scenery.
The Kenyan landscape is stunning, with breathtaking views of the Great Rift Valley. From the highest point in Kenya, you can see the snow-capped peaks of Mount Kenya and fish for trout in crystal-clear streams. Lake Nakuru, just to the east of the Rift Valley, is a must-see. The lake is a wildlife refuge and is home to the Masai people who reside in the surrounding areas. Lake Naivasha is a favorite among visitors. Its shores are dotted with palm trees, and the lake itself is home to many species of migratory birds and waterfowl. Hell's Gate National Park is a great hiking site, it has hundreds of caves with natural geysers and hot springs.
Kenya is a breathtakingly beautiful African country that boasts a fascinating history and culture. The country's capital city, Nairobi, is one of the best cities in Africa for tourists, with a vibrant cultural and historic center and plenty of wildlife to explore.
Discover more reasons to visit by taking a look at our list of the top tourist attractions in Kenya. It's no secret, this African country has some incredible sites worth visiting!
Read More:
Top-Rated Tourist Attractions in Mombasa & Easy Day Trips
Maasai Mara National Reserve
Maasai Mara National Reserve is one of Africa's most magnificent game reserves. It borders Tanzania, is also a northern extension of the Serengeti, and forms a wildlife passage between the two countries.
The park is named after the Maasai people, a tribe of pastoral herders who live in the park and graze their animals here. The word "Mara" is "mottled" or "spotted" in the Maasai language which is appropriate as the park has a lot of shadow and sun at various times.
It's probably the most popular destination for animal enthusiasts, especially during the Great Migration is a large migration of wild animals, which occurs annually in the Serengeti region of Tanzania, from July to October. at this time you can see thousands of wildebeest, zebra, and other wild animals moving back and forth between Mara and Serengeti.
The Mara River is a popular spot for nature lovers and tourists. The park provides excellent opportunities for wildlife sightings, especially in the dry months from December to February when the river and surrounding area is a hotspot for lions, cheetahs, and leopards. You can visit the park all over the year, as the weather here is usually mild and gentle.
Amboseli National Park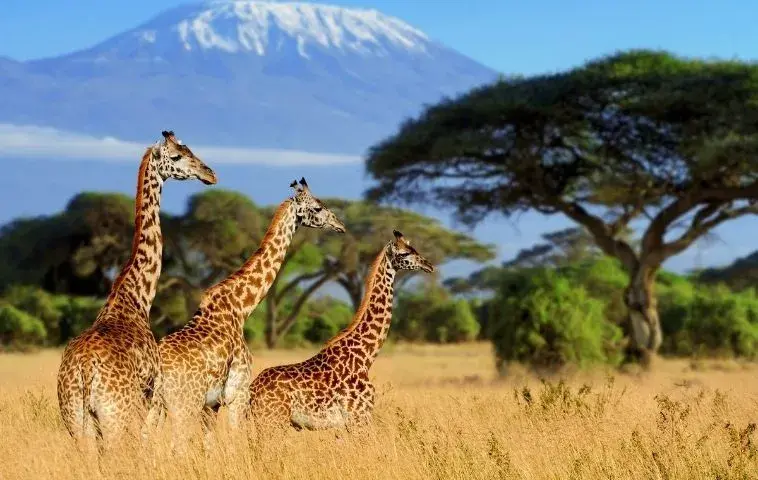 Crowned by Mount Kilimanjaro, Kenya's largest national park and one of its most visited tourist attractions in Kenya, Amboseli National Reserve is also one of the most visited national parks in Kenya. It has salt-infused winds and dry conditions like nowhere else on the planet.
The reserve is home to one of the best places in Africa to view large herds of elephants up close. It is also home to several other large animals including lions, cheetahs, and giraffes. Other wildlife that is commonly spotted here includes a whole host of antelope, impalas, elands, zebras, and waterbucks, as well as more than 600 bird species.
When you visit Lake Amboseli National Park, you'll be able to get a real taste of what it's like to be immersed in nature. It is home to five different types of habitat, including dry grasslands, wetlands with sulfur springs, savannah, and woodland. Each of these habitats is unique to the region where they are found. You can also meet the Maasai people, who make their home in the region.
Tsavo National Park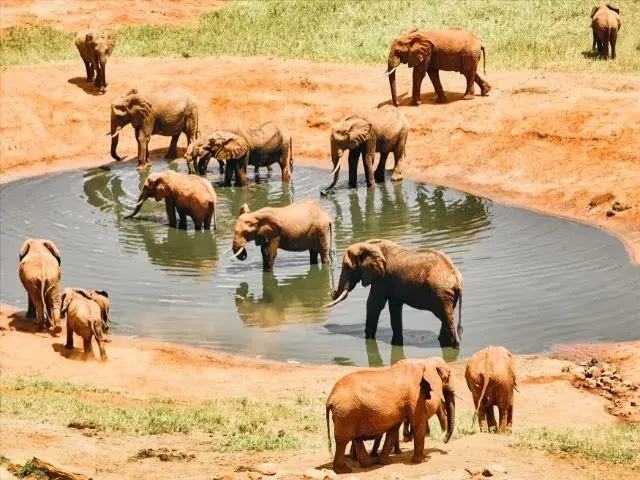 Tsavo West and Tsavo East together are the largest parks in Kenya, together comprising about 4% of the country's total area. In addition to a diverse range of landscapes, these parks include rivers, waterfalls, a savannah, a massive lava-rock plateau, and an astonishing diversity of wildlife.
The Tsavo East National Park, located between Nairobi and Mombasa, is home to some of the largest elephant herds in Kenya. The park is best known for its dramatic landscapes of tall grasses, waterholes, and a great diversity of wildlife including elephants, buffalo, zebra, African wild cats, lions, and crocodiles.
Other highlights include the Yatta Plateau, known as the world's longest lava flow, which runs along the western boundary of the park above the Athi River. It is a striking example of how volcanic activity can shape the landscape. Its 290 km length was formed by lava and ash that erupted from Ol Donyo Sabuk mountain. Mudanda Rock which is a 1.6 km inselberg of stratified rock acts as a water catchment that supplies a natural dam below. It offers excellent scenery when hundreds of elephants and other wildlife animals come to drink during the dry season. Lugard Falls is a series of whitewater rapids on the Galana River.
Tsvobo West is topographically more varied and it is also wetter than Tsavo East and its magnificent scenery in the northern part of the park. One of the park's most beautiful attractions is Mzima Springs, where hippos and crocodiles live in the warm waters. Another popular spot for seeing birds of prey is Chaimu Crater.
Unfortunately, the density of vegetation means it's more difficult to spot Wildlife. However, the stunning landscapes more than make up for the difficulty.
Samburu, Buffalo Springs, and Shaba National Reserves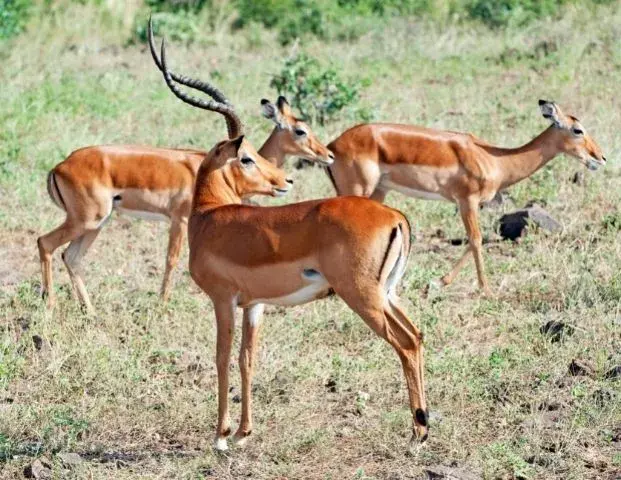 On the banks of the Ewaso Nyiro River, Samburu, Buffalo Springs, and Shaba Reserves lie in a dried region in the far north of Kenya.
The water in the river is vital to many different species of wildlife. The animals in all three reserves depend on it to survive, and many species are specially adapted to the dry conditions. These include Grevy's zebras; Somali ostriches; and gerenuks, the long-necked antelope that stands on two rear legs to reach the fresh sprouts on upper tree limbs.
Samburu National Reserve is home to one of the most popular wildlife attractions in Kenya – the Sarara Singing Wells. These are waterholes where local warriors sing traditional songs while withdrawing water for their cattle to drink. It's a great opportunity to see the amazing wildlife that surrounds the reserve and spot lions, cheetahs, African wild dogs, and leopards.
Lake Naivasha
Lake Naivasha is a haven for bird lovers. This is one of the few places on the African continent where one can witness more than 400 species of birds, among them, African fish eagles, white-fronted bee-eaters, and several species of kingfishers.
You can get a closer look at wildlife on Lake Naivasha by taking a boat ride. Hippos splash in the water and giraffes, zebras, buffaloes, and eland graze around the edges of the lake. You'll also be able to spot colobus monkeys in the trees.
Located on the edge of Lake Naivasha, Hell's Gate National Park provides some excellent hiking, rock climbing, and other outdoor activities. The park is home to a variety of animals and flora and is a great place to go for a hike.
For a truly memorable experience on the southern shore of Lake Naivasha, try the Elsamere Conservation Centre. It's where Joy Adamson and her husband, George, lived and wrote the book Born Free. you can grab a cup of tea and enjoy the experience.
Lake Naivasha is a very important source of freshwater for the East African nation, but its water levels are increasingly being impacted by droughts and climate change. However, the lake usually has plenty of life, with people living and farming near its shores.
Lamu Island
The tiny island of Lamu, off the coast of Mombasa, is a perfect place to visit. With a history that dates back to the 12th century, Lamu Old Town has been designated a UNESCO World Heritage Site.
Wandering through the narrow twisting streets here helps you explore the island's rich trading history in its buildings, which feature architectural elements from around the globe, such as European designs, Arab influences, Indian, and even an unmistakable Swahili style. all these elements mixed together result in a unique style that distinguishes the island from any other place in Kenya.
Sightseeing here is like stepping back in time. Dhows plow the harbor, there are few if any motorized vehicles here, and the streets are still ruled by donkeys. While most people are Muslim, most of the population dresses in traditional apparel.
Visitors looking for a slice of authentic Swahili culture will find plenty to enjoy on Lamu Island. The island's biggest attraction is the Lamu Museum. It offers an in-depth look at the region's nautical history and is well worth a visit if you are in town. The museum also features an informative exhibit on Swahili culture, Lamu Fort which served as a base for trade.
If all the history is a bit too much, then maybe you'll feel better if you visit a local beach or grab an Arabic coffee in a local café, and enjoy people-watching.
Lake Nakuru National Park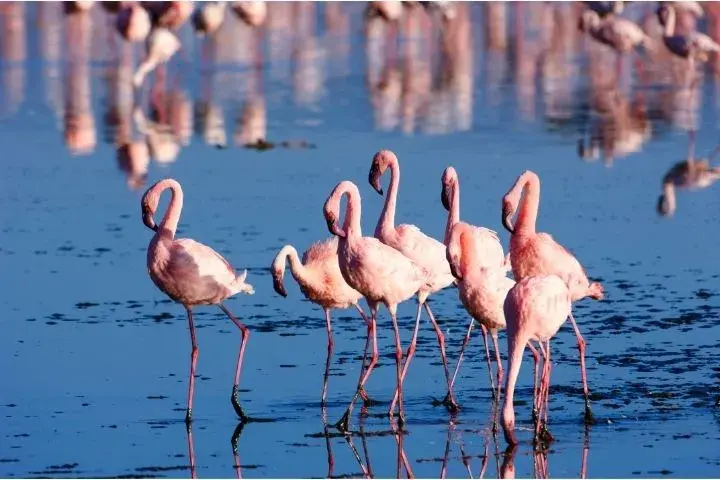 The Lake Nakuru National Park is a famous area of Kenya attracting a huge number of pink flamingos, which can be seen throughout the lake in abundance. The lake covers more than 25 percent of the park's area and is the largest of the soda lakes in the country.
The park was established in 1961 and has seen over 450 species of birds as well as a rich diversity of other wildlife. Lions, leopards, warthogs, waterbucks, pythons, and white rhinos are just some of the animals you may see, and the landscapes range from sweeping grasslands by the lake to rocky cliffs and woodland.
The park protects the biggest Euphorbia candelabrum forest in Africa. The tall, branched succulents are endemic to the area and add a bold textural element to the dried-up landscape.
Nairobi
Kenya is known for its many tourist attractions, including the chance to see lions, giraffes, elephants, and more of wildlife. Nairobi, the country's capital and largest city, is where you'll find some of the most memorable sights. This is a city full of colonial-era charm and character. In addition to exploring a new city, you can learn about nature, enjoy the arts, see more wildlife attractions, and have a great time.
Kenyan capital city Nairobi is one of the most attractive places to live in the entire African continent. You will find several worthwhile attractions in Kenya. The Nairobi National Museum is the best place to see exhibits on Kenya's history, nature, culture, and contemporary art. Greenery lovers will also enjoy the botanic gardens on the grounds.
The Karen Blixen Museum was the residence of the famous Danish writer Karen Blixen, also known by her pen name "Isak Dinesen". She wrote the book Out of Africa in 1937. Her residence, the Karen Blixen Museum, is currently a popular tourist attraction that is 10km outside of Nairobi.
Nairobi National Park is a sanctuary where you can see wildlife without having to travel too far from the city. the park is also home to a diversity of African wildlife, including several species of birds, and the occasional leopard.
Nairobi National Park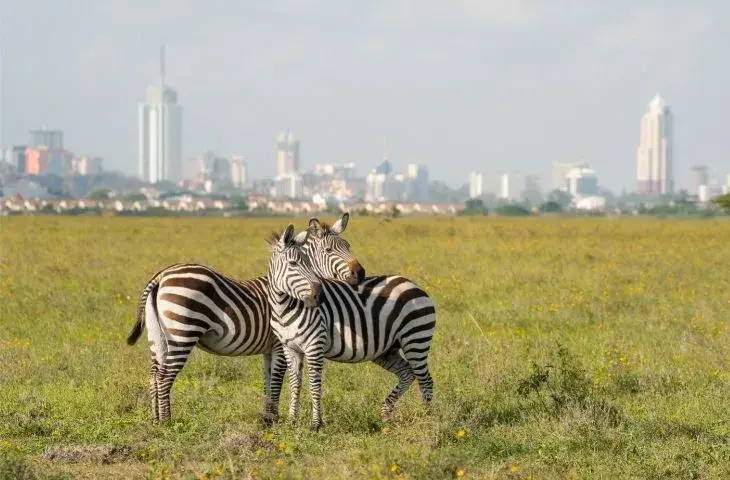 Nairobi National Park is a great place for a day trip or a weekend getaway. It's just a 15-minute drive from the center of the city and you can experience all the action of a big game park and still get some time to relax and enjoy the natural beauty of this African park.
As the home of the Big Five, this park is a must-see in Kenya if you're visiting. Nairobi's Safari Walk provides a rewarding opportunity to spot animals on foot, and birders will be happy to know that more than 400 species of birds also inhabit the park, including the beautiful Grey-crowned Crane.
In addition, the David Sheldrick Wildlife Trust Elephant Nursery at the park's main gates makes an excellent stop if you want to meet the local elephant population and learn more about their conservation. Also make sure to pop into Giraffe Centre, near the famous Giraffe Manor, where these long-necked beauties eat right out of your hands.
David Sheldrick Wildlife Trust Elephant Nursery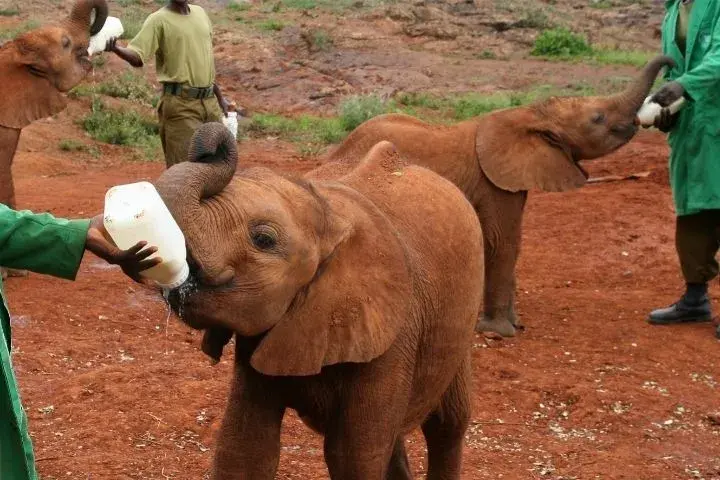 The David Sheldrick Wildlife Trust offers one of the most memorable wildlife experiences in Kenya, if not Africa. You can mingle with impossibly cute baby pachyderms and feel good about supporting an important conservation organization at the same time.
The sanctuary offers visitors the chance to experience life with orphaned baby elephants. These little ones are brought here from different locations and then cared for by keepers who bottle-feed the youngsters to help them grow up properly. From there, staff will relocate the elephants back to Tsavo East National Park where they can begin their return to the wild.
Watching playful elephants wallow in mud, poke soccer balls or nuzzle their caretakers is something you will never forget. These magnificent animals are one of the greatest attractions in Nairobi, There is a special program where you can adopt an orphaned baby elephant, giraffe, or rhino and the organization sends you updates on the case progress.
Nairobi National Park is conveniently located on the doorstep of the main gate of Nairobi National Park. Visitors can visit both of these tourist attractions on the same day.
Malindi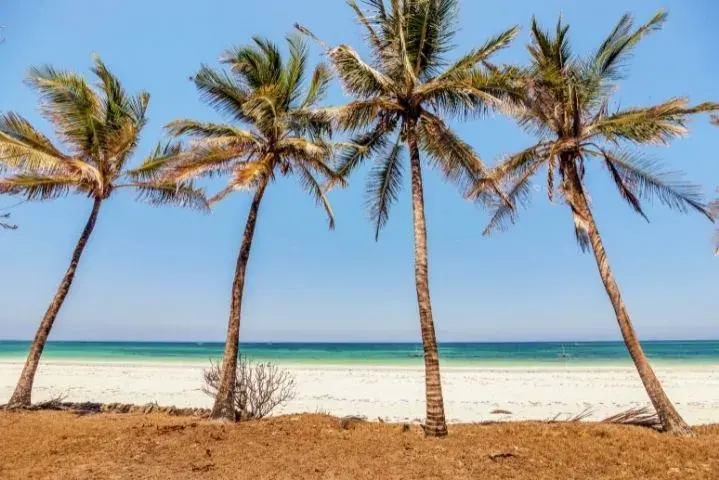 Malindi is a popular tourist spot in Kenya with a mix of historical and modern influences. The town's rich trading history helped in shaping its diversity of cultures and cuisines.
You can learn a lot about a place just by taking a walk. And when you walk down Malindi Beach in Kenya you'll see many beautiful sights and get a chance to interact with the locals. You can do even more for a better understanding of Kenya by visiting one of its National Parks or Marine Parks.
In the history-rich town, you can visit the famous Jami Mosque, built in the 14th century; the Church of St. Francis Xavier, one of East Africa's oldest churches; and the Two Pillar Tombs from the 14th century. The Vasco de Gama Cross is one of the oldest existing monuments in Africa and a popular landmark located on the promontory.
The Falconry of Kenya is a center where rescued birds are being rehabilitated. The center's team of expert falconers teaches people how to care for injured birds and offers free training to interested students.
The Marafa Depression also known as Hell's Kitchen or Nyari is a series of sandstone gorges sculpted by the wind and rain that is very similar to a mini Grand Canyon. This unique feature can only be seen in Kenya's north.
Mombasa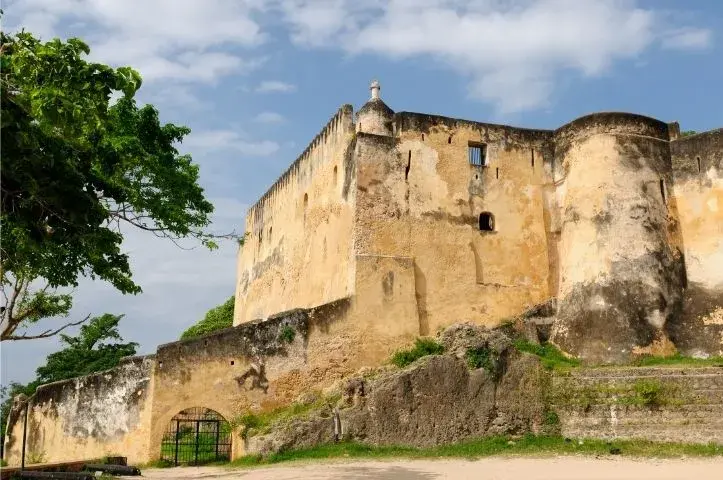 Mombasa is one of Kenya's largest cities and its largest port. It's also the country's second-most populous city and third-largest urban area. British, Portuguese, Arab, Indian, and Asian immigrants have contributed to the rich cultural mix. And the influence is evident in the architecture, as well as the many different types of cuisine.
It is an island off the coast of Kenya, connected to the mainland by a causeway, bridges, and ferries. surrounded by Coral reefs 480 kilometers, which makes it a wonderful snorkeling and diving site, especially around Wasini Island. consider dolphin watching and deep-sea fishing as they are also of the most popular things to do in Mombasa.
The coastline is one of the most famous stretches of natural beauty in the world. From Mombasa to Malindi, the beaches along Kenya's coast are a great place to relax and unwind with family and friends.
The city of Mombasa boasts a wide variety of tourist attractions from museums to water parks. The most popular tourist spots include the Mombasa Go-Kart, cinemas, and sports, as well as a cornucopia of restaurants.
This is a great area for beach lovers with several beaches to choose from. North of the city, Nyali and Bamburi Beaches are favorites while the white strands of Shelly, Tiwi, and Diani beaches are popular spots to the south.
Read More:
Top-Rated Tourist Attractions in Mombasa & Easy Day Trips
Mount Kenya National Park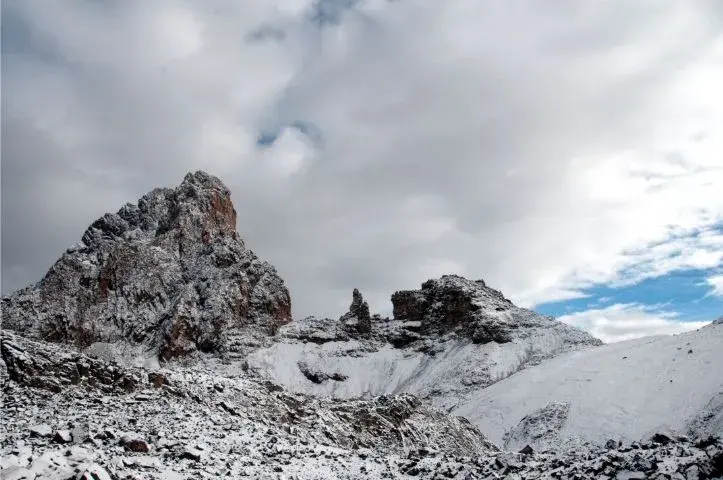 Mount Kenya National Park in East of the Great Rift Valley (UNESCO World Heritage Site) provides a rare glimpse into equatorial weather patterns. The park is home to the highest point in the country and the only place on the continent with a permanent layer of snow.
Mount Kenya consists of three glaciers, but the highest one is Batian. Batian is the tallest of the three at an elevation of 2,845 m (9,340 ft). It was formed by a series of volcanic eruptions. Mount Kenya is an active volcano located in the East African Rift Valley, about 70 km east of the equator in the country of Kenya.
The lowermost, Lenana, is considered the most straightforward and manageable ascent, although unpredictable weather can present some significant challenges.
Bring your camera, because the view is always changing and beautiful. Take in the spectacular views of glaciers, lakes, and mineral springs, then follow the rivers through the forest and into the lush landscape of alpine forests and dense pockets of bamboo.
The variety of flora and fauna in the area provides rewarding safaris for visitors. Among the wildlife here, you might see black and white colobus monkeys, buffalo, elephants, tree hyrax, leopards, and hyenas.
A luxury retreat with trout fishing, golf, and tennis are located in the foothills of Mount Kenya, just outside the town of Nanyuki, Kenya. The famed Fairmont Mount Kenya Safari Club is one of the country's most sought-after retreats.
Hell's Gate National Park
While the vast majority of parks allow visitors to camp, only a few allow you to explore on foot or by bicycle. In fact, this park is among the few parks that allow camping. The Hell's Gate National Park is a relatively new national park in Kenya. It has become one of the most popular climbing areas in East Africa and is also well known for its beautiful scenery, friendly guides, and excellent infrastructure.
Hell's Gate is a unique place on Earth. It has two extinct volcanoes; the red cliffs of Hell's Gate Gorge; ObsidianCaves; and the pointed column of rock known as Fischer's Tower, a former volcanic plug. The site is only accessible on foot and by bike.
Its Geothermal features include hot springs and natural geysers hissing steam through vents in the earth's crust. This park is a hotspot for wildlife. More than 100 different bird species have been recorded here, along with many other animals.
There are also eagle and vulture breeding grounds within the park. These are places where the birds can raise their young. The park has several such sites where breeding occurs.
The Oloor Karia Maasai Cultural Center is an ideal place for visitors to see a bit of how the Maasai community lives, the center is also home to Maasai musicians and dancers, and their demonstrations are a treat.
Olkaria Geothermal Station is the first in Africa, it sits in the park and is a great way to get an introduction to how a geothermal power station works by generating power through heated pressurized water underground that doesn't pollute the environment but also a stable one that can be used during a rainy season.
Ol Pejeta Conservancy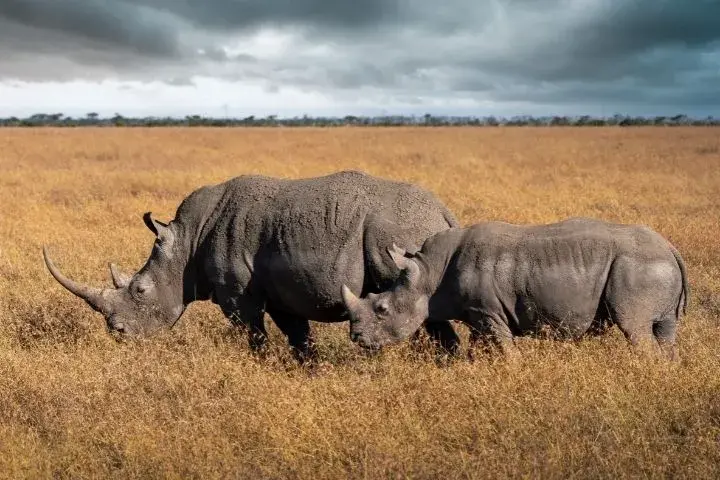 Located about 200 kilometers north of Nairobi, near Mount Kenya National Park, Ol Pejeta Conservancy is a popular place for close-up wildlife encounters.
At over 90,000 acres, this private game reserve is not only home to some of the world's most iconic animals, but also boasts a spectacular view of Mount Kenya, Kenya's highest mountain. From cheetahs to giraffes to hippos, this is an incredible place to see wildlife up close.
The conservation of the world's rhinos has been a major focus for the organization, with particular emphasis on the northern white rhino, which was only saved from extinction in 2009 thanks to a dedicated breeding program.
If you want to see the wildlife on your own, you can drive or hike to spots where the animals reside. The best way to get up close with them is to spend the night in a campground or lodge that will offer you the opportunity to get as close to the animals as possible.
Explore More Destinations:
Top-Rated Tourist Attractions in Egypt
Top-Rated Tourist Attractions in Morocco
Top-Rated Tourist Attractions in Thailand
Top-Rated Tourist Attractions in Italy
Top-Rated Attractions & Things to Do in France
Top-Rated Tourist Attractions in Brazil


Tours & Excursions in Kenya
Visa & Health Requirements
Please make sure you check all the information you need to know about the passport, visa, and health requirements of your destination.
Check out all the data provided by IATA (International Air Transport Association)
Share This