Best Places to Visit in the United States
| by Assia A. |
| Last Updated March 8, 2023 |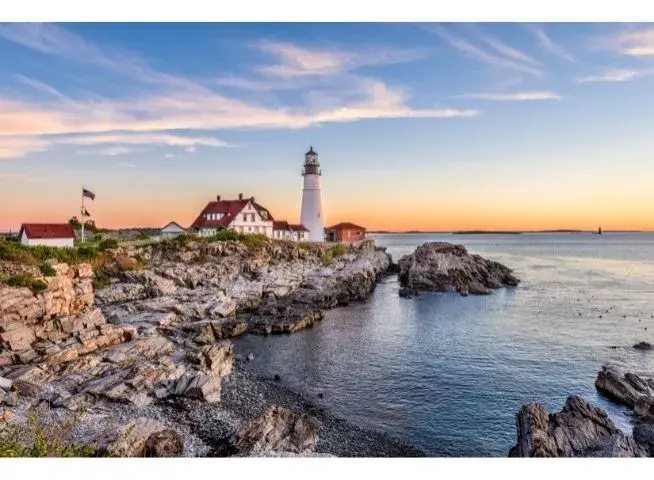 When you're considering what destination to visit in the U.S, you have options with a lot of choices! As it is, the country is home to a variety of cities with famous landmarks, some known for history, nature, and others for glamour or fun. Depending on what interests you, the best places to visit in US may stay hard to choose from.
New York and Washington, D.C. are two great cities with very different experiences. Los Angeles and San Francisco are both enchanting destinations, offering a unique blend of culture, activities, and shopping opportunities.
In the wild Southwest, Las Vegas is the Entertainment Capital of the World, and the Grand Canyon is one of nature's most mesmerizing creations and the perfect huge backdrop for any picture. Beyond the mainland, you'll find Huawei Islands and the beautiful beaches of Waikiki.
In this article, we have put together a list of the best places to visit in the U.S, which should help you get more out of your trip.
New York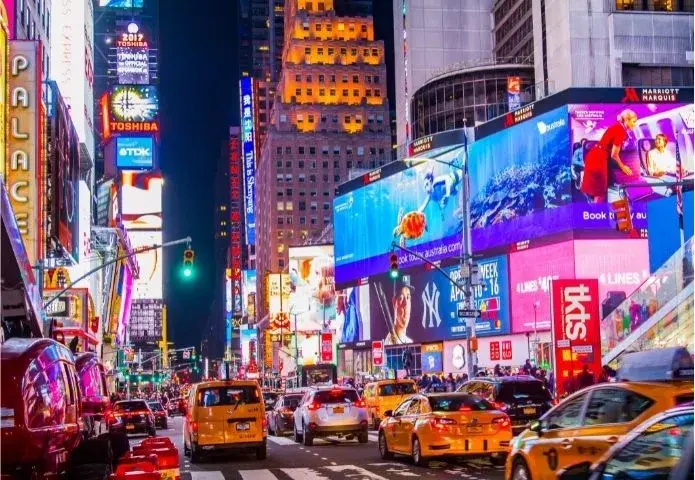 New York, the cosmopolitan City is unlike any other city in the world, not only it is home to some of the world's most iconic attractions and landmarks, but it also has a unique sense of culture and attitude, with incredible sounds, and allure. The first time you visit you might feel it's like walking through a movie set where everything is decorated to look just right. From Central Park, Times Square, Chrysler Building, 5th Avenue, The High Line, Broadway, and of course, the Statue of Liberty.
Check out trendy coffee shops, and well-known bakeries in the East Village & Brooklyn with a more artistic and eclectic vibe. Then, check out the stylish shops lining Fifth Avenue, visit the Metropolitan Museum of Art, take in a Broadway show in the evening, or sit down and relax over a fantastic meal.
This is New York, New York! Even if you've been to NYC countless times before, a time in the city is unique and unforgettable. It provides something entirely different from any other place in the world.
Read More:
Top-Rated Tourist Attractions in New York City
San Francisco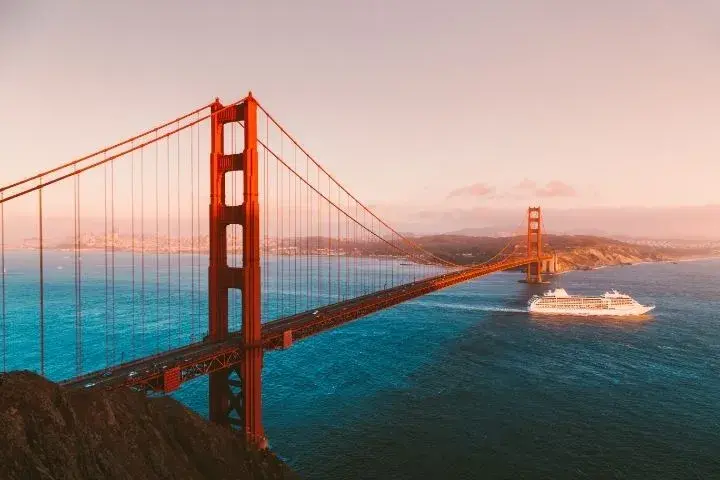 San Francisco is one of the most charming and picturesque cities in the world, and the perfect destination for couples, with iconic sites, beautiful streets, outstanding views, and great outdoor dining. If you're looking for a place to visit, this is it!
If you want to experience the sights and sounds of San Francisco, a cruise on the bay is a great way to get around. The Alcatraz tour is definitely worth it, as well as driving across the Golden Gate Bridge. If you want to shop, stop by Fisherman's Wharf.
There is no better time to visit this town than summer or fall! The climate here is mild year-round and it has beautiful scenery combined with lots of events to enjoy.
The Grand Canyon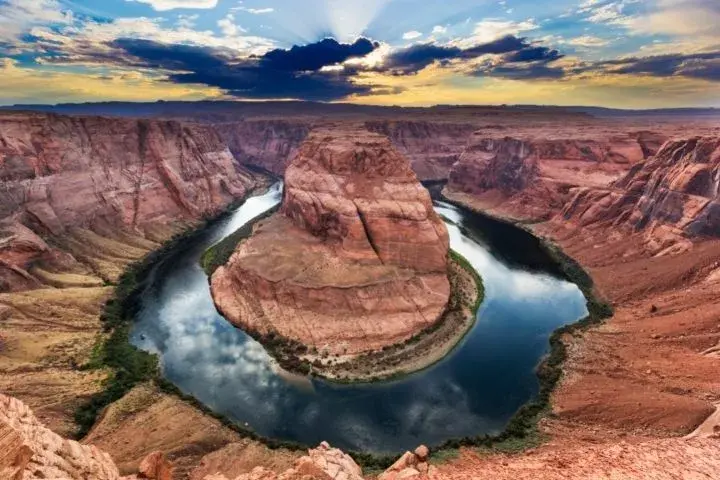 The Grand Canyon is one of the world's most popular tourist destinations. It is also a UNESCO World Heritage Site and a National Park. The Colorado River carved out the canyon over millions of years, making it one of the deepest in America and a great place to explore.
It is one of those sights that will be always stuck in your mind, it's hard to describe how the Grand Canyon makes you feel, with its breathtaking and mysterious views.
Daily round-trips can be easily done to visit the Grand Canyon from Las Vegas or Phoenix, and smaller cities like Sedora or Flagstaff. Most people go to the Grand Canyon by car so they can visit more places along the route like Arizona and the surrounding states.
But you can take a scenic and relaxing tour instead by taking the Grand Canyon Railway, which makes daily trips between Williams, Arizona, and the Grand Canyon. It's a fun experience on its own and even more exciting that will make your trip unforgettable.
Don't miss your chance to explore the best attraction in the region! The Grand Canyon is open 365 days a year and offers spectacular views at any time. Consider visiting in the spring or fall, the site is less crowded at this time, and you'll be able to take advantage of cooler weather and great views.
The snow can block visitors from accessing the north rim of the Grand Canyon during winter, but you still have plenty of other things to do & see.
Houston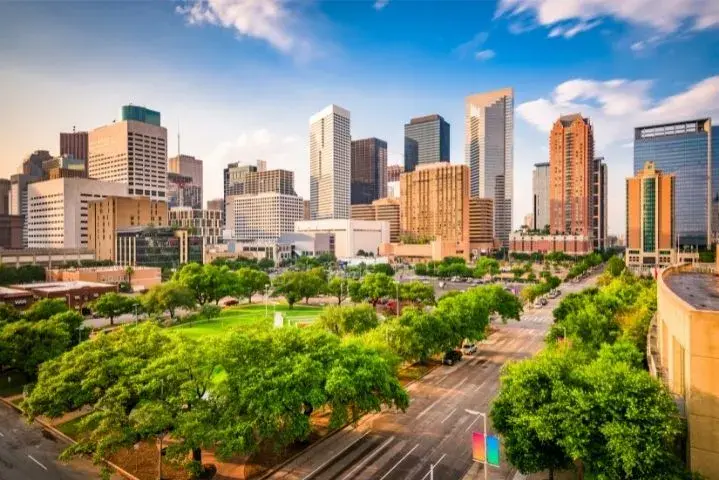 Houston is a Texas city with enough to do and see to keep everyone busy and happy, with direct flights from airports across the United States and Canada. Its large variety of top-notch attractions, natural beauty, and diverse culture make it an ideal destination for friends, couples, or family vacations.
The city is one of the best places to shop in Texas, with plenty of nice hotels to stay at, and various family and kids attractions to visit, like the zoo or the children's museum. Travelers interested in space can learn all about NASA at the Space Center Houston, while science fans can check out the Museum of Natural Science.
If you want to experience a relaxed but outdoor urban environment, rent a bike and ride through Through miles of trails and acres of greenspace in Bayou Greenways. You can be on the nearby beaches of Galveston in less than an hour.
The weather is pleasant in the city nearly all year round, and plenty of fun festivals and much to do you might want to give it a chance.
Las Vegas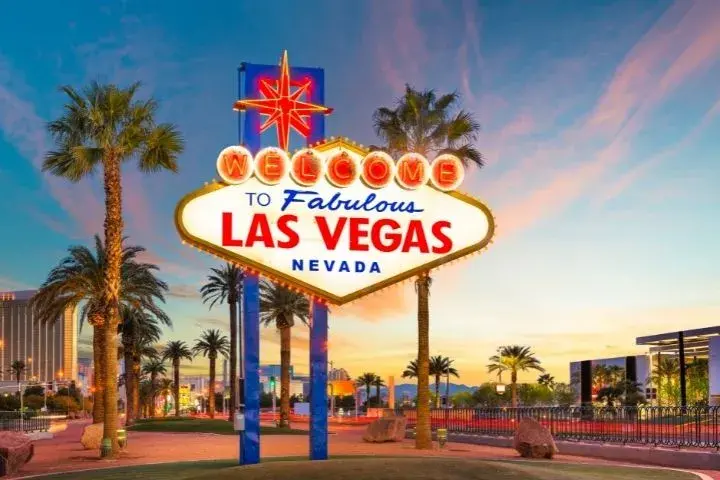 The sparkling city of Las Vegas is a unique destination for people from all over the world. It has something for everyone, with a variety of resorts, casinos, and hotels that offer top-quality amenities. The city is known for fun and excitement, visiting Las Vegas is always a great time, from taking in the best views of the iconic 4-mile stretch of Las Vegas Boulevard "Strip", to checking out a museum, or driving Ferraris and dining at celebrity chef restaurants.
The Entertainment Capital of the World with some of the music industry's top stars living there and playing to big audiences every night, from Sinatra to Elvis to Celine Dion, they all have had their concerts at Las Vegas resorts for more than 60 years.
Travelers around the world are always looking for new experiences, and of course, each resort has something to attract guests, from dancing fountains to erupting volcanoes. Also, there is Le Cirque du Soleil which offers a unique experience.
Love the city but need time to relax, and escape the crowds! There is so much to explore in Las Vegas's surrounding area with more natural attractions, such as The Grand Canyon, Hoover Dam, Valley of Fire State Park, and Death Valley National Park.
Waikiki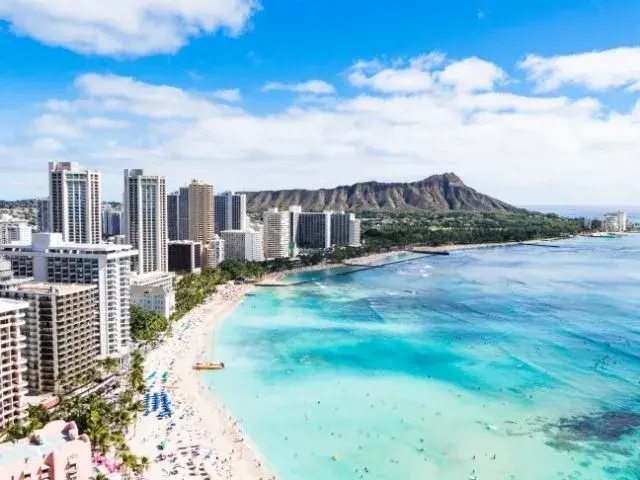 Waikiki is a well-developed holiday-maker's paradise, a shining holiday destination that everyone wants to visit at least once in their life. This beach destination is said to be one of America's top tourist destinations, with all the comforts of North America on a stunning tropical island in the Pacific Ocean.
Located on the Hawaiian island of Oahu, with gorgeous beaches and beautiful golden sands. The place has a variety of high-rise hotels that offer unparalleled luxuries right by the edge of the azure waters. It's no wonder you will get to enjoy a breathtaking view every time you step outside your hotel room!
Renting a surfboard and testing your surfing skills, hitting the Designer fashion stores line Kalakaua Avenue when you're done with the beach, and enjoying amazing dining options in the evening, is a great experience you will never forget!
Washington, D.C.
Washington D.C. is a city that should be on everyone's East Coast itinerary. Home to famous sites such as the White House and the impressive domed Capitol, and Supreme Court, as well as some of America's most treasured museums and important monuments, this capital is full of great cultural icons. The National symbols of the city "the Capitol & the White House" are accessible to visitors.
Spring is the perfect time to take a trip to Washington D.C. and be a part of the National Cherry Blossom Festival for four weeks of celebration from March 20 to April 17. Fall is also a great time to visit when the weather turns quite a bit cooler, and taking walks around the city is much more comfortable. Summer can be unpleasantly hot and humid.
Miami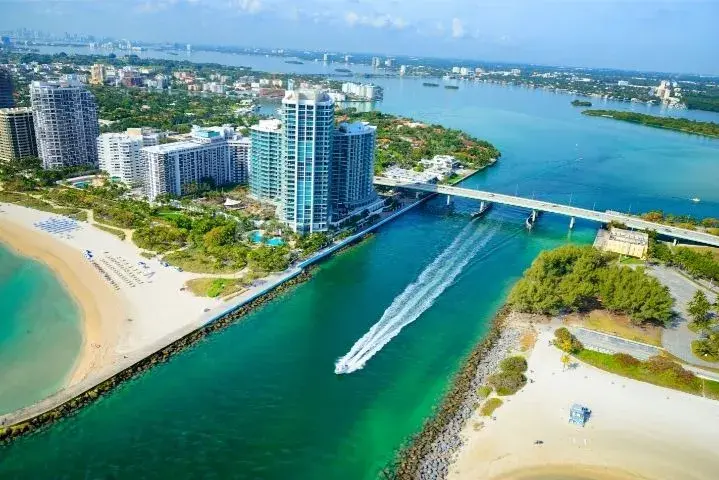 Miami is a great destination for those looking for beaches and a good time. Not only does the city boast a diverse selection of beaches, but it also covers all aspects of the good life. Whether you are in the mood for shopping, dining, or dancing, you'll find what you need in Miami.
This hot spot of southern Florida is an amazing place with art around every corner and a vibe that matches its culture. It has preserved multicultural neighborhoods like Little Havana with the Cuban vibe and unique traditions to thrive.
The art deco architecture of the Miami Beach district recalls the 1930s, the vibrant nightlife, and extravagant parties, and sports cars cruising along Miami Beach. All these unique aspects make Miami a city that you can't keep away from!
Take a day trip from Miami to Everglades National Park to see alligators, Florida panthers, turtles, and an array of birds, you can choose to explore the park by boat, bicycle, or on foot for an amazing experience.
Los Angeles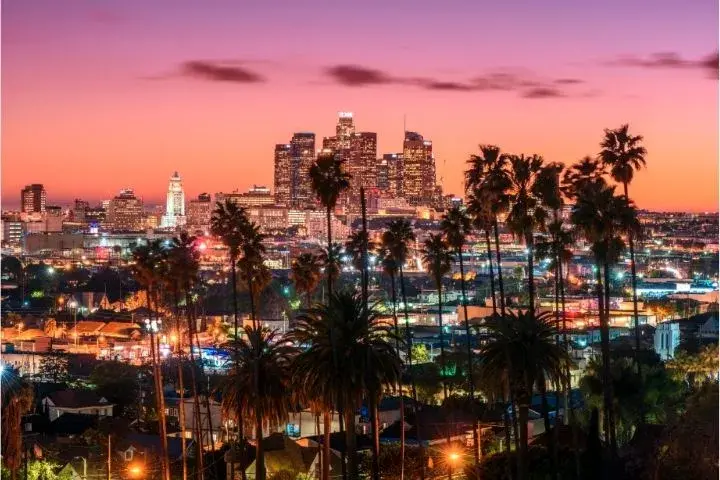 LA, the Southern California city and the center of the film and television industry, has always been associated with glamourous neighborhoods, Hollywood, Beverly Hills, Malibu, and Bel Air.
for movie lovers, Los Angeles is filled with chic Hollywood brands and movie set backdrops, the world's entertainment capital offers tourists the opportunity to visit Paramount Pictures and Warner Bros studios, to discover behind the scenes of the filmmaking and television world.
What's more, the city of Angels is home to well-known art galleries such as the Los Angeles County Museum of Art and the Getty Center. Also a great destination for families who come to experience nearby Disneyland,
For travelers who are looking for sun, sand, and surf, the Malibu and Santa Monica Beaches are there for you. More outdoor activities for hikers at Griffith Park and Angeles National Forest.
New Orleans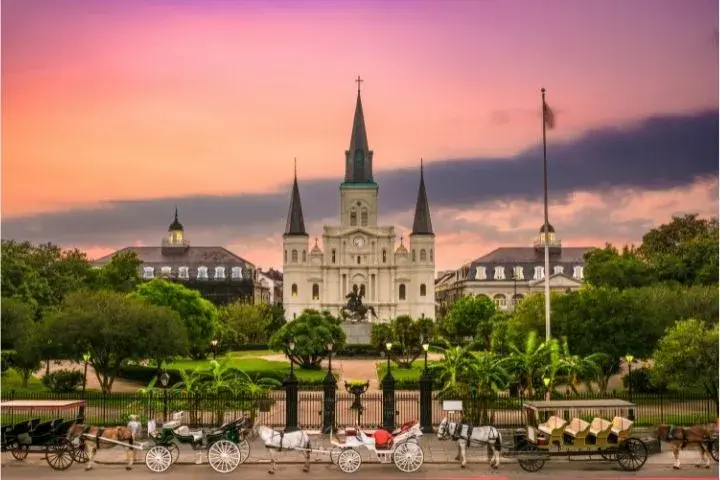 New Orleans is known for its European-style architecture, strong French and Spanish influences, delicious Creole cuisine, jazz music, and all-around good-time vibes. This makes the city an ideal destination for a long weekend getaway.
For many tourists, the best time to visit is when it's Carnival season, to celebrate Mardi Gras "in French" or "Fat Tuesday in English", you can't help but join in the fun. With Carnival traits, elaborate costumes, masks, fabulous floats everywhere you look and the music is always playing in the background. It sounds like never-ending celebrations!
If crowds are not your thing, you should try visiting the city another time of the year.
February to May is the best time to visit since the weather is comfortably cool, from June to November is hotter and might be storms and hurricanes.
Utah's National Parks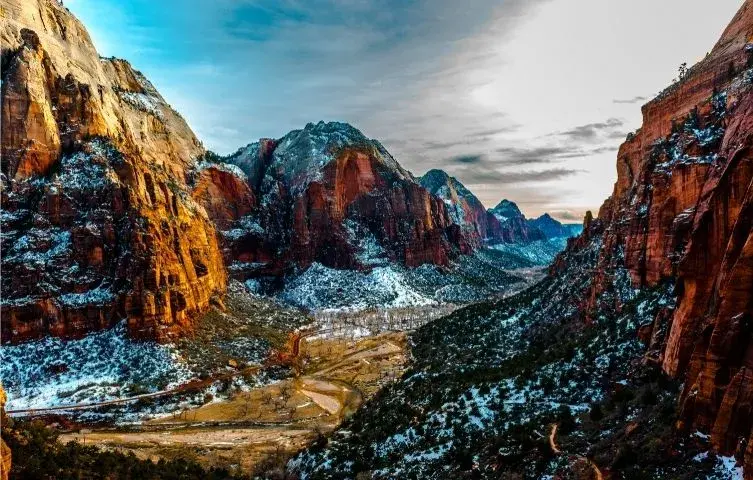 Southern Utah is home to picturesque landscapes, red sandstone cliffs, rock formations, ancient archeological sites, and landforms in amazing configurations. All of these things make southern Utah a wild and woolly place to visit even if you're not into backpacking.
Zion National Park is one of the most beautiful and highly visited areas in the United States, known for its impressive hiking trails, and offers some of the best views around. The park is surrounded by towering cliffs, waterfalls, serene rivers, and amazing stars that illuminate the night sky.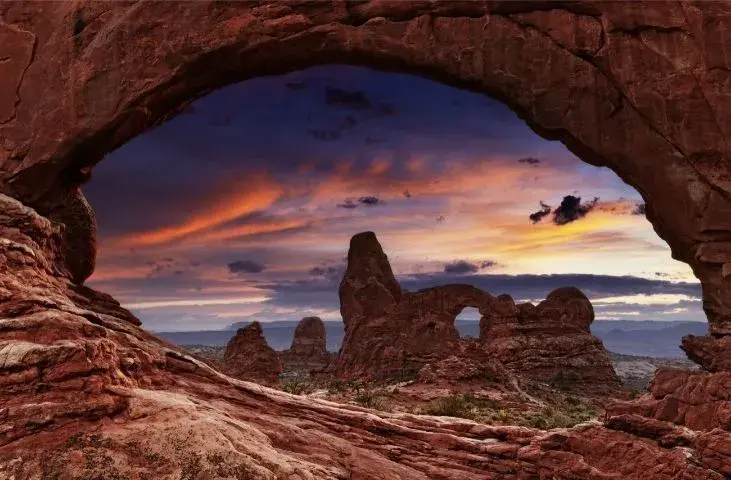 Arches National Park, located near the town of Moab, the park is home to more than 2000 natural sandstone arches, beautiful rock spires, and petrified dunes, which makes it the best mountain biking destination in the United States.
This desert park is a beautiful place for lovers of outdoor activities, it's also a great place for photographers who want to capture wide-angle views at sunset. There are plenty of adventures one can enjoy in this magnificent desert landscape. From mountain biking to relaxing or professional hikes and spectacular views.
The landscape of Canyonlands National Park is quite different from that of the Grand Canyon. You'll need a day to explore two separate parts of this park, and even more, if you want to see the optional trails that lie within it.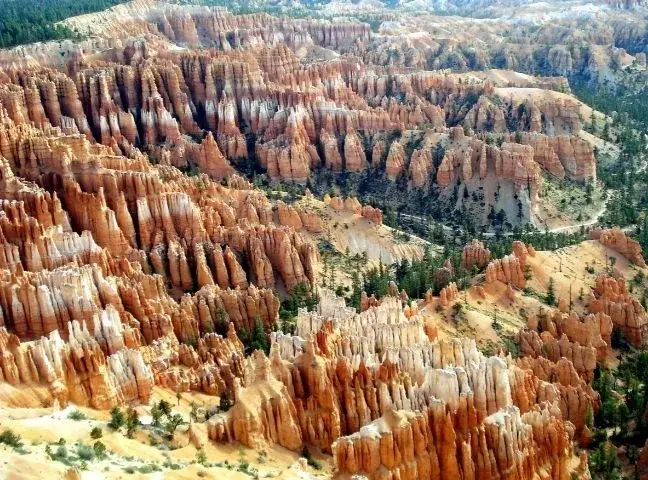 Bryce Canyon National Park offers a completely different scene, composed of a dozen amphitheaters, the slot canyons, and the tall thin spire of rock called "hoodoos", providing scenic views for a forest of red, orange, and white rock pinnacles.
The majestic views in this park are a sight to behold and take you out of this world. Driving through the desert mountain range provides an amazing experience and the trails that traverse it are designated for overnight hiking. The park also offers optimal conditions for stargazing.
At last, comes the Capitol Reef National Park which offers the tourists a variety of activities, from auto touring, hiking, backpacking, climbing, and horse riding to camping.
Orlando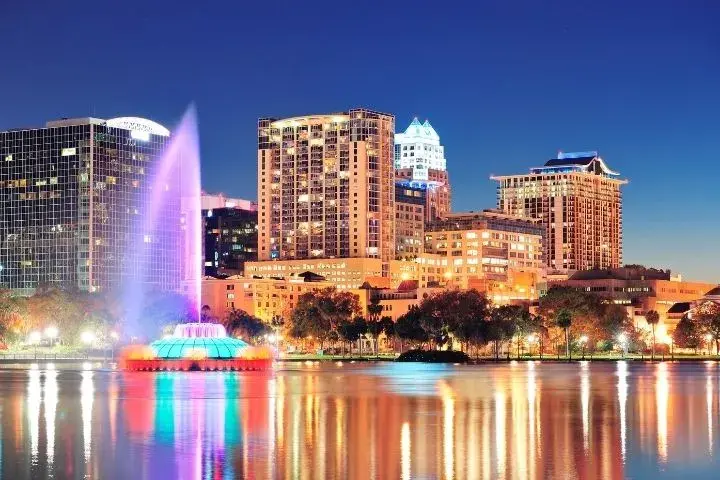 Orlando is known as the "Theme Park Capital of the World", it has a wide variety of fun attractions for everyone and is one of the best family vacation spots in the US. Walt Disney World Resort, Universal Studios, and SeaWorld are the top attractions of the city. Kids love to spend time in Orlando, the adults will also enjoy exploring everything that this city has to offer like parks, dining, shopping, and golfing!
If you're planning a visit to the area during the wintertime, you'll want to make sure that you book your stay much in advance, as hotel reservations tend to get booked up quickly. With so many attractions in Orlando, finding a hotel near them can be difficult. The best way to explore Orlando is with a car, but inside each theme park, the better way to get around is on foot.
Chicago
Chicago, also known as "The City of Big Shoulders", America's third-largest city, is located on Lake Michigan and has a beautiful waterfront, which makes it the perfect destination in the summertime. But it also has exceptional year-round cultural options, with various shopping districts and so many attractions.
Some of the tourists highlights include Michigan Ave. the most popular area for tourists with distinctive architecture, and high-end luxury stores and art galleries. Chicago's skyscrapers and the Art Institute of Chicago, Millennium Park, and the breathtaking views from the Willis Tower Skydeck Chicago.
Savannah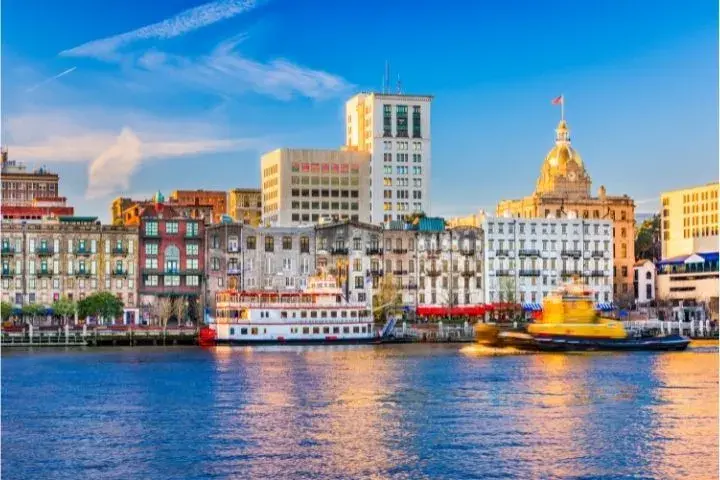 Savannah is a beautiful Southern city with huge Spanish moss-covered trees in the parks, Southern accents, old mansions, and wonderful waterfront areas that are serving visitors with nice candy shops around. This city is also known for the slow pace of life, which makes it the perfect destination for anyone who wants to feel relaxed and at peace from time to time.
The city knows how to show visitors a good time, with the small center where you can walk everywhere to see the sights, immerse yourself in history, and taste the delicious Southern cuisine. The city can all be seen on a day trip, but it is also the kind of place where you will want to stay for long.
Driving around the beauty of nature to reach destinations is one of the best ways to pass time in Savannah. Tybee Island and Hilton Head Island are just two options nearby for you to visit by car in less than an hour.
Boston
Boston, MA is a place of history, located along the Eastern Seaboard, the famous Freedom Trail was created to make both sightseeing & navigating through the city easier. Boston is not only known for its baseball, but also its history, the city has America's first free municipal public library, the first public school, the first subway system, and the first public park!
It is one of the most picturesque cities in the country, situated along waterfronts with charming views. Skyscrapers in close proximity to centuries-old colonial buildings, the city integrates the modern with the classic, attractions like the modern Museum of Fine Arts, or the historic Paul Revere House and Faneuil Hall that take you back to the 18th century. They all give the city a unique and interesting history that is still relevant today.
Boston has also an amazing arts scene, from the Boston Pops Orchestra to fine arts, and dance.
The best time to visit Boston is from May to October. The autumn weather makes touring the city on foot a joyful experience. Summer is the perfect season to attend baseball games and outdoor concerts. However, there is always something fun to do in the wintertime, with great hotel deals.
Yosemite National Park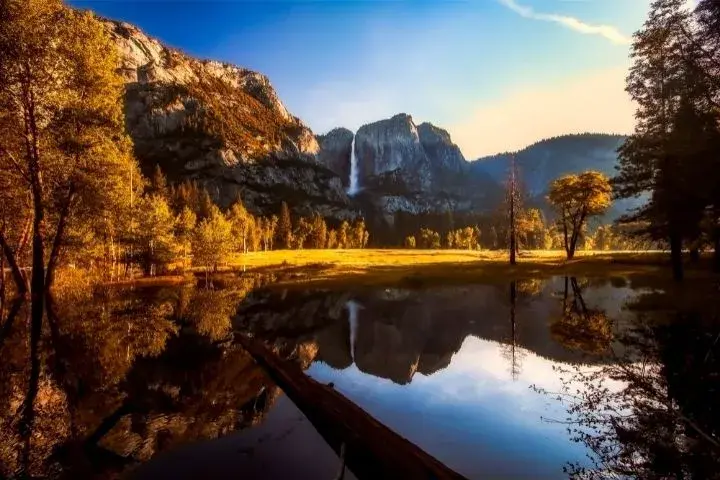 While the Grand Canyon is a well-known international visitors' itinerary, Yosemite is national heaven located in California's Sierra Nevada mountains, that worth a visit. Visiting this National Park will show you some of America's most famous landscapes and iconic natural attractions. From spectacular mountain views, and brilliant waterfalls to the grand cliffs of El Capitan.
Ansel Adams the famous American photographer known for his iconic works and for capturing breathtaking landscapes took some of his breathtaking photos in Yosemite National Park. For decades, the climbing community has flocked here.
The Miwok people inhabited the area of Yosemite National Park well before it was established. You can learn more about this from the Yosemite Museum and the Indian Village of Ahwahnee.
Seattle
Seattle is a beautiful coastal city with tons of culture, art, nature, and outdoor activities. Like Vancouver, Canada, Seattle is a bustling metropolis that has an active population. Living in Seattle offers tourists and locals alike plenty of things to do.
The city has lots of incredible sights to see, including the Space Needle, Pike Place Market, and waterside waterfront. Visiting nearby places like beautiful beaches, mountain landscapes, and the Hoh Rainforest is also a sweet choice for a day trip.
The city has a mild climate, which makes it a great place to visit all year.
Explore More Destinations:
Top-Rated Tourist Attractions in Cuba
Top-Rated Tourist Attractions in Chile
Top-Rated Tourist Attractions in Italy
Top-Rated Tourist Attractions in Egypt
10 Top-Rated Tourist Attractions in France
Top-Rated Attractions & Things to Do in Morocco


Tours & Excursions in The United States
Visa & Health Requirements
Please make sure you check all the information you need to know about the passport, visa, and health requirements of your destination.
Check out all the data provided by IATA (International Air Transport Association)
Share This