Top-Rated Tourist Attractions & Things to Do in Pattaya
| by Assia A. |
| Last Updated April 3, 2023 |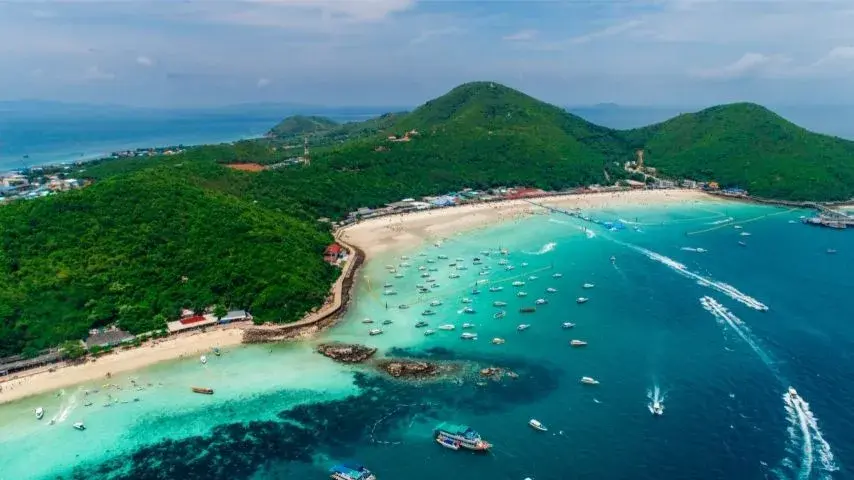 Pattaya has a reputation for its great sun, sand, and sea. it is less than 200 kilometers away from Thailand's capital city of Bangkok. Visitors can enjoy their time at this beautiful beach resort town during their travels with a lot of activities and things to do in Pattaya.
Pattaya used to be a sleepy beach town, but thanks to US troops who discovered it during the Vietnam War, it has slowly and steadily become more popular. Now it is one of the most popular "getaway destinations" in all of Asia!
In recent years, the government has made efforts to attract families to Pattaya. There are many attractions suitable for both adults and children, from water parks to an aquarium, as well as entertainment you won't find in any other place. A lot of adult people still prefer hanging around the area along Walking Street.
With the many tourists and crowds at the city center of Pattaya, it can be difficult to stay away from the commotion. There are a few quieter options available that offer excellent amenities so you and your family can still have a fun time while looking for another spot. Jomtien Beach or Naklua might be good choices.
How are you going to spend your vacation? What kind of activities do you plan on doing in Pattaya?
One thing is for sure–planning your adventures with the list we have compiled top tourist attractions and things to do in Pattaya, will make your stay a success.
Read More:
Top-Rated Tourist Attractions in Thailand
Get a Sun-Tan on Beautiful Jomtien Beach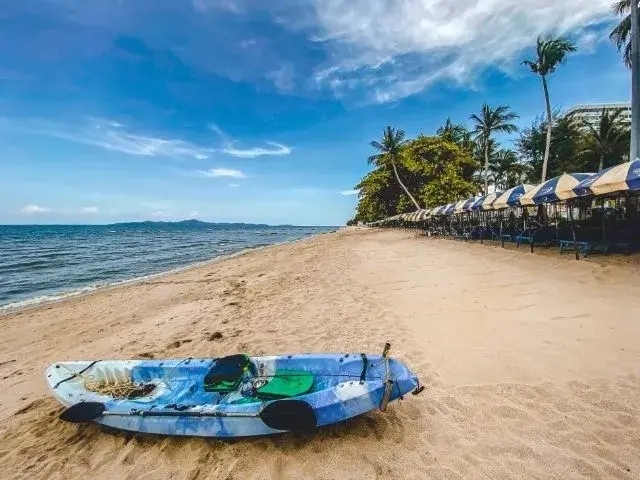 Jomtien Beach is just one of the places to visit in Pattaya. A popular destination for those who want a break from the bustle of the city and relax in tropical weather. There are plenty of places to sunbathe or take refuge in cool shade from its tree. Outdoor water lovers have a lot of fun doing all kinds of activities, including kayaking, sailing, windsurfing, and parasailing.
You'll be able to find plenty of restaurants, cafes, and seafood along the beach where you can enjoy delicious, local dishes.
There are many family-friendly attractions nearby such as Cartoon Network Amazone. It's a water park that has everything you could imagine: spiraling slides, sprawling pools, splashing fountains, and cartoon-themed rides and characters.
Nong Nooch Tropical Botanical Garden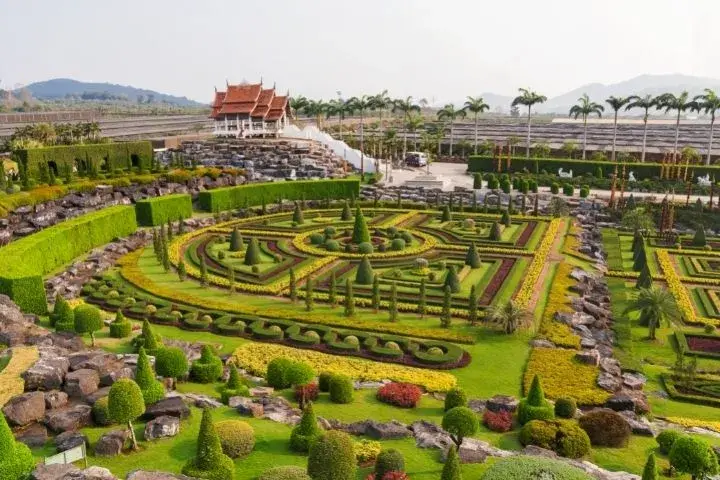 At Nong Nooch Village, you can find hills, the river, and a sprawling park with various activities that are perfect for all ages.
Hang out and wander through the gardens that make up this campus. You'll find topiaries, 17th-century French gardens, European Renaissance gardens, and species-specific like a tropical palm garden, bonsai, or succulent garden.
If you haven't explored the Thai Cultural Hall yet, then stop what you're doing and quickly get there. The magnificent orchid garden inside will awaken an inner horticulturist in anyone and is a great place to learn about the culture. Live performances at this venue are a must-see event, with Thai dancing, sword-fighting, and an amazing kickboxing show.
Renting a bike is a great way to explore the different areas of the park, and you'll also have another option which is door-to-door transportation.
Explore The Sanctuary of Truth
This amazing monument is a mind-blowing piece of architecture and it was also to pay tribute to ancient religions and philosophies. With intricately carved wooden decorations everywhere, it makes Thai style look like nothing you've seen before. Made entirely out of wood and built with incredible attention to detail, this may be one of the most beautiful places on Earth.
While visiting the sanctuary, there are many activities to choose from. You can enjoy Thai cultural performances and traditional Thai boxing matches, or go on an elephant trekking excursion or horseback riding tour.
Big Buddha (Wat Phra Yai)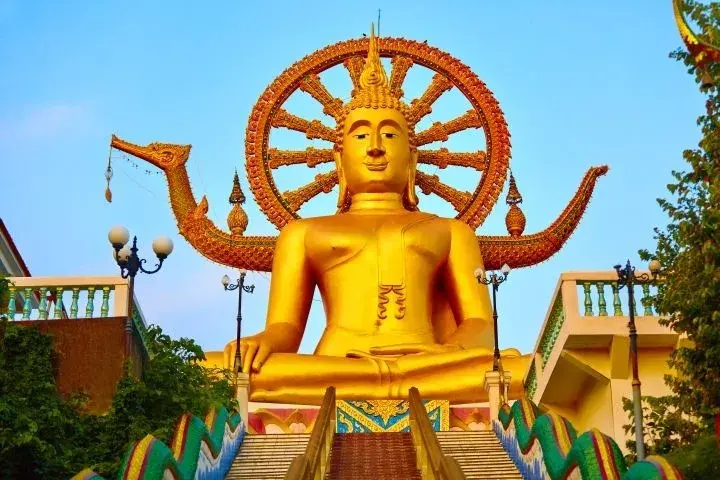 This spectacular 18-meter tall golden statue of the Buddha in silent contemplation sits atop the peaceful and serene Pratamnak Hill. The gorgeous design is a must to see up close when visiting Pattaya.
Visitors to Pattaya are always happy to find that there are various local temples scattered about the city for local people to pray for good health, happiness, and prosperity. That may not sound like much of a "hill" walk, but it provides wonderful views over Pattaya Bay. And if you're too exhausted for walking up the hill, catching a taxi is your solution.
Wat Yansangwararam
Wat Yan is a fascinating temple known as one of the most important temples in Thailand. It offers insights into Thai design and architecture traditions, as well as promoting values that are important to that country's society.
The temple was built in 1976 and was dedicated in the honor of King Bhumibol Adulyadej in 1988 at the same time that he reigned for 42 years on his accession of the throne. It's a sight to behold, surrounded by sprawling palm-studded gardens.
Different Buddhist relics are housed in the main complex of Wat Yansangwararam. You'll find ancient Chinese pavilions, filled with antique furniture and other artwork next to a lake on the right path leading up to the temple. The Oriental-style shrine stands on a hill with a view of the temple from above.
Ramayana Water Park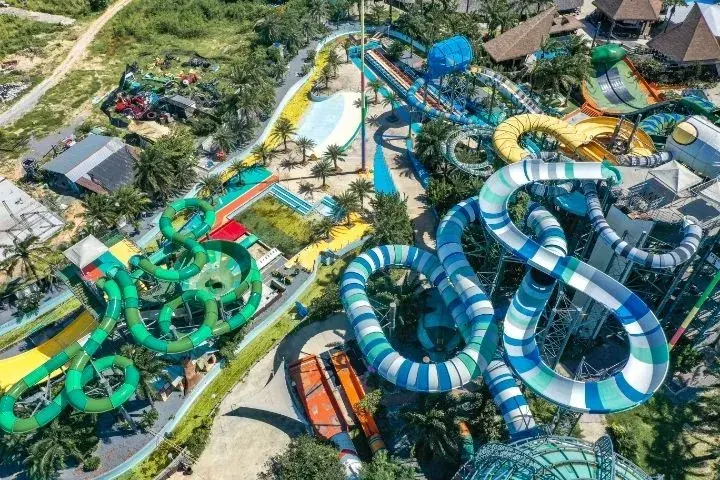 Ramayana Water Park offers a number of thrilling water-themed rides and activities for everyone. For example, parents can take their children on the Blue Vertical Drop Slide; thrill-seekers can enjoy the Tornado, which has riders whirling around while getting soaked with jets of water; and older children who like to play in shallow pools will enjoy the Jungle Adventure Riverrun.
There are so many things to enjoy here. Start things off with the impressive double wave pool, then head over to the kids' Aquasplash park which boasts fountains, and then explore the storybook layout of a maze before taking an exciting journey on the lazy river ride. It will seem like you are caught in a magical fairytale landscape!
Day Trip to Coral Island (Koh Larn)
Koh Larn is a relatively peaceful escape from tourist-packed Pattaya which is only a 30-minute speed boat ride or 45-minute ferry ride away. There are plenty of white-sand beaches lined up along the shoreline. You can enjoy lunch & snacks and snorkeling or parasailing up close. For some maritime fun, take a banana boat ride or even explore the crystal clear water before you take in an underwater Sea Walk tour.
Tien is unique in that it's one of the prettiest beaches in Asia. If you're looking for a vacation spot where monkeys have fun around, it's worth staying at Nual Beach – or if you want speed and adventure on your trip, rent a motorbike for the day! You'll get gorgeous scenery and plenty of fun at this beautiful spot. It is an ideal place for families to spend time away from the hustle and bustle of Pattaya.
Floating Market
One of Pattaya's main tourist attractions is its floating markets where all sorts of goods with origins from all around Thailand can be purchased.
Souvenirs, arts & crafts, and clothing are among the many items sold here that you can find even more of what you like sold by the locals, this is also the perfect place to try some exotic food; scorpions, crickets, and crocodile meat are just a few things available to you.
Renting a boat is a great way to explore a local market. Being on the water opens up your windows to a different perspective and helps you experience more of what the market offers.
You can enjoy both action-packed shows and side events along the ride! There's also a zipline across the top of the water.
Mini Siam
There's no better way to get a glimpse of your dream vacation than with Mini Siam. They feature exquisite models of famous and historic sites all over the world.
Bangkok's Victory Monument, Wat Arun (also known as the Temple of the Dawn), New York's Statue of Liberty, London's Tower Bridge, Sydney Opera House, and Paris L'Arc de Triomphe are among of the famous sites on display.
Due to the popularity of a single place to visit, there are times when finding tickets can be difficult. make sure you arrange your booking at least a day in advance to avoid any problems. However, arriving in the late afternoon provides some of these famous structures with warm lights that turn on after dark.
Underwater World Pattaya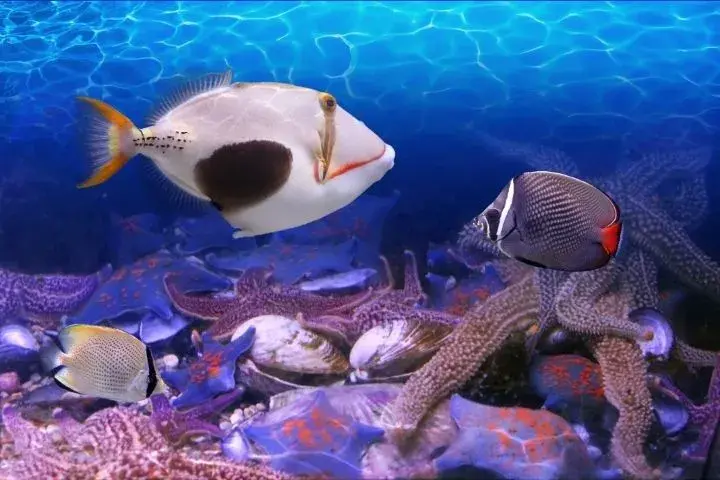 Many people may not know about this small aquarium, but it's still a place full of amazing sea creatures from different underwater environments. Here, at the country's first modern aquarium, you can feed koi fish from bottles and get up close to sharks and rays. This place is educational & beautiful–it's a must-see if you're in Thailand. You can even feel the texture of sea creatures in the touch pool. This location has plenty of interesting exhibits and activities that'll offer hours of family fun.
Kids can learn about marine animals during their sleepover at the aquarium. They will be able to spend a night in an underwater glass tunnel looking at fish and learning about what goes on under the water.
Naklua Fish Market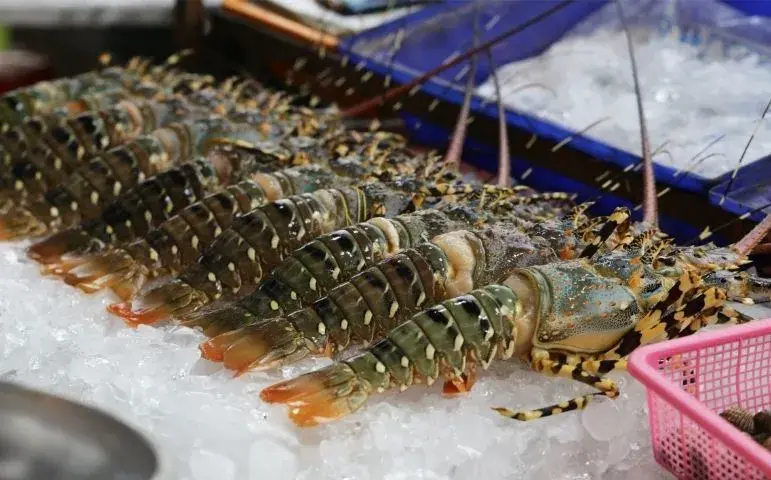 Head to Naklua fish market for a slice of Thailand's local life and some delicious seafood. Vendors there sell fresh-caught seafood at discounts than most other markets in town and also offer barbecue on-site.
You can also find fresh fruit and other locally-sourced foods and several good restaurants are in the area. The transport option is also very affordable if you made a friend or two while lounging on the beach you can get a group taxi.
Thepprasit Night Market
One of the most popular markets in Pattaya, Thepprasit is where tourists can find everything they would expect in a Thai city. While the prices are higher here, it's worth hopping on a tuk-tuk to get there.
The market is made up of a number of indoor, outdoor, and artisan stalls. The largest section by far inside is the indoor part with its wide selection of goods & services.
As it is with most of the Thai markets, the setup of the stalls varies from stall to stall and depends on what you're looking for. Because of this, the price may vary depending on where you are standing. To get the best deals at these markets & shops, you'll have to walk around and check out every stall to get the best deal.
When you're shopping, keep your eyes peeled for designer copies and suspiciously cheap products. Make sure the items you're buying are interesting instead of forgettable so that they'll function as beautiful souvenirs of your vacation. As a final tip, silk clothing is surprisingly affordable!
Explore More Destinations:
Top-Rated Tourist Attractions in Milan
Top-Rated Tourist Attractions in Cairo
10 Top-Rated Tourist Attractions in Paris
Top-Rated Attractions & Things to Do in Marrakesh
Top Tourist Attractions of Rio de Janeiro

Tours & Excursions in Pattaya
Visa & Health Requirements
Please make sure you check all the information you need to know about the passport, visa, and health requirements of your destination.
Check out all the data provided by IATA (International Air Transport Association)
Share This