Top-Rated Tourist Attractions in Morocco
| by Assia A. |
| Last Updated March 28, 2023 |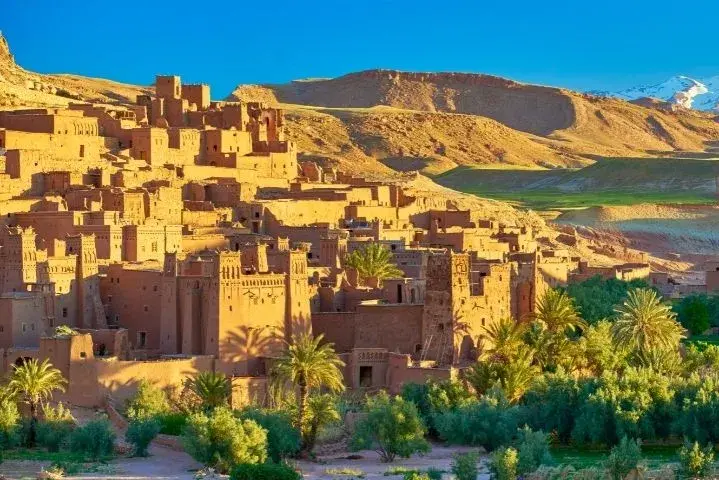 Morocco is one of north Africa's most interesting and diverse historic destinations, a land of culture, mystery, and magic. Its natural beauty, historical landmarks like Roman ruins, and orange-toned mud-brick kasbah architecture, as well as its culture, make it a must-visit destination.
Morocco has always had a charming market scene that is often dotted with the vibrant colors of local artisan crafts, this has made it one of the best shopping destinations in the world. Don't be surprised if you find yourself surrounded by lively souqs in Marrakesh and Fes.
The country provides tons of activities for travelers who want to get out and see some new sights. If you're into trekking and other outdoor activities, the Atlas Mountains are the perfect place to go and explore some new territory.
While for those willing to take the time, traveling across the Sahara Desert, witnessing a broad array of colorful landscapes, and sleeping amid the towering dunes of the Sahara, remains one of the country's most unique experiences
Morocco is unlike any other destination, with hidden desert oases, villages that cling to the coastline, rose-filled valleys, and mountains whose fortress walls stand at the gates of the cities and historic ruins.
This magical country remains firmly rooted in its medieval past, a blend of the African and Arab worlds. It's no wonder that artists and writers have been captivated by Morocco for decades, and continue to fascinate those who visit today.
Explore the best places to visit in this fascinating country with our list of top tourist attractions in Morocco.
Fes el Bali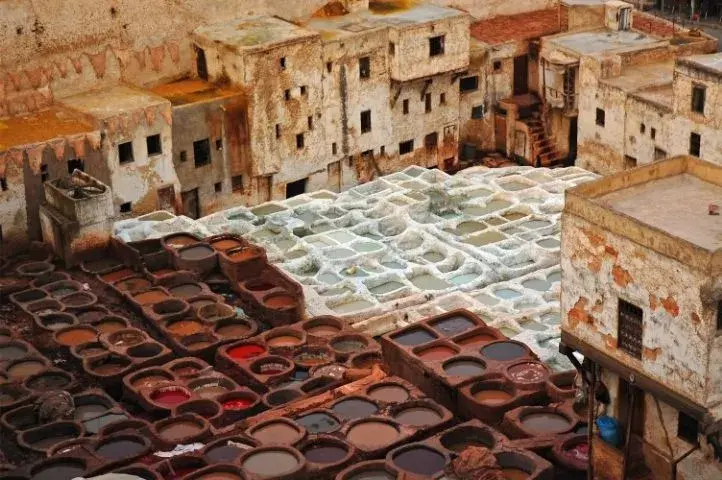 Besides Marrakesh, Fes is Morocco's other big cultural destination.
The ancient walled medina with thousands of narrow alleyways is the world's largest car-free urban zone. Once you are inside the maze it's near impossible to not get lost, but that's part of the fun!
Fes el Bali's narrow streets are crowded with stalls, mosques, souks, artisan workshops, madrasas (Islamic schools), humble homes, merchants selling dates, spices, and fresh cuts of meat.
Among the most famous photos of Fes el Bali are taken at the tanneries, one of the most iconic sights in the city. This is where the leather hides, are used for the colorful leather jackets, shoes, bags & other souvenirs found in the souks.
Read More:
Top-Rated Tourist Attractions & Things to Do in Fes


Marrakesh Medina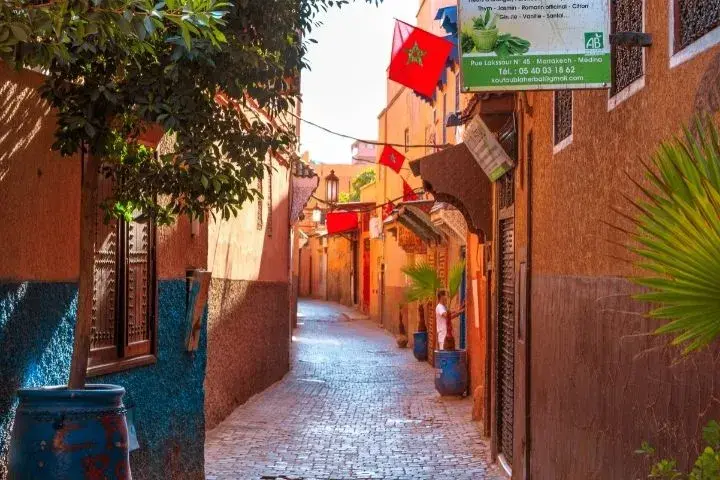 Marrakesh is a bustling, vibrant and busy city with a lot to offer. The medina has been left as it once was and still provides a uniquely Moroccan experience that makes the place fascinating for many visitors.
Jamma el-Fna Square is a popular place in the old city, making it the city's living room. Here, people from all walks of life come to meet one another & enjoy the wonderful traditions that can only be found in Marrakech, which include snake-charmers, traditional musicians, stall vendors, and random acrobats.
Inside the old "medina" you will enter a world of maze-like alleyways, this is a place full of activity, colorful and noisy local life. It offers an experience quite different from other parts of the country which makes it a must-see destination!
Read More:
Top-Rated Tourist Attractions & Things to Do in Marrakesh

Essaouira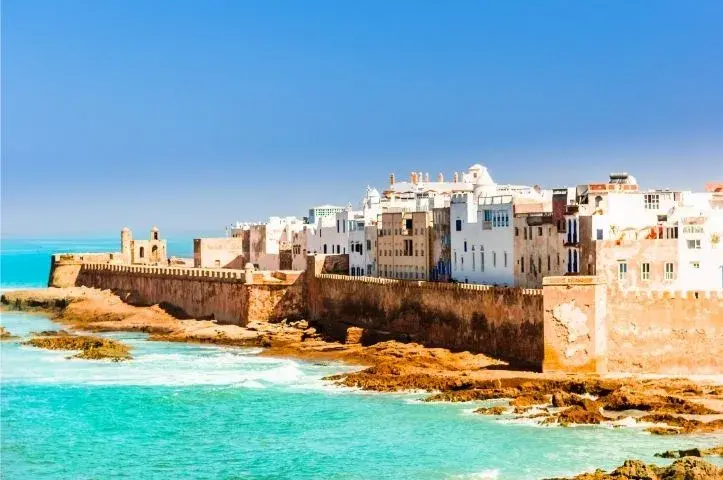 Essaouira is one of Morocco's most charming coastal cities, with a laid-back vibe that has attracted occasional travelers who have sought a surfer haven in the country. The town was attracting artists and hippies during the 1970s and they still thrive here today.
The seafront medina of Essaouira protected with fortified walls is the main visitors' attraction. Its winding alleys are home to some of the most interesting traditional shops, art galleries, cafés, and restaurants.
The city has a lot to offer, from walking quietly in the shade of its ramparts, or along the beach to surfing, the kitesurfers are taming the waves, taking advantage of the wind.
Ranked as one of the most beautiful cities in Morocco by Unesco, Essaouira is known for its musical festival – the Gnaoua festival that celebrates Afro-Maghrebin rhythms. In this melting-pot of musical fusion, the Gnaoua masters invite players of jazz, pop, rock, and contemporary World music to explore new styles.
Ait Ben Haddou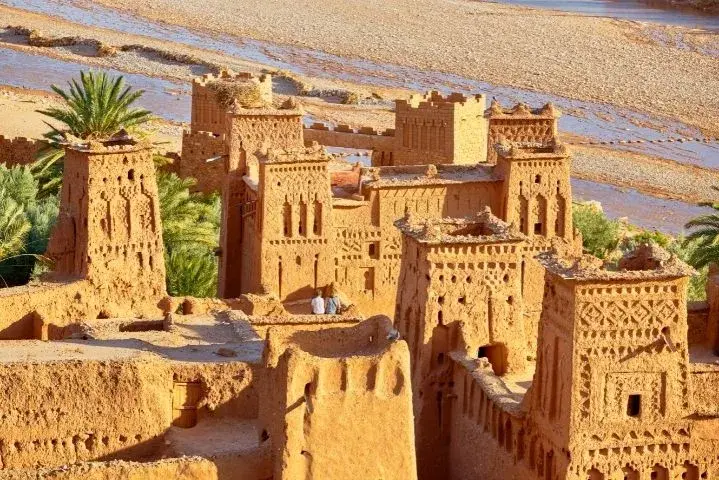 This Unesco protected golden-stoned adobe ksar (fortified village) seems frozen in time, more like its 11e-century days as an Almoravid Caravanserai. Ait Ben Haddou is now Morocco's most colorful and authentic landmark.
Hollywood has chosen this quiet countryside town as a location for more than 50 films in various genres, Lawrence of Arabia, Jesus of Nazareth, Jewel of the Nile (note the Egyptian towers), and Gladiator.
If you're seeking a remote, peaceful experience in the Sahara, you can sleep within the Ksar, it is a fortified village of earth buildings built on a hill in the middle of a valley, and is protected from the outside by thick red fortress walls.
Read More:
Top-Rated Things to Do in Morocco's High Atlas Region


Erg Chebbi's Dunes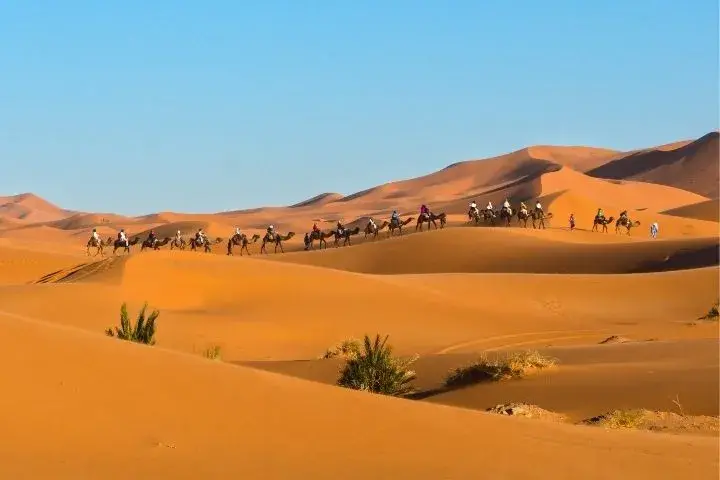 The most popular destination for grand and rippling dunes is Erg Chebbi. These dunes are shaped by the wind and rise to 180 meters, they rise like a sea out of the desert and are an alluring place to visit
The dunes here are ideal for sandboarding, off-roading in four-wheel-drive vehicles, camel trekking, and watching the different types of sunrises and sunsets.
Savoring the desert breeze, sleeping under the stars, and the silence only the desert can offer all contribute to making it well worth the trip!
The gateway town to the Erg Chebbi dunes in Merzouga in South Eastern Morocco. It is a long trip by car from Marrakech about 8 to 10 hours drive. You can independently plan your trip to Merzouga and organize activities once there.
But many travelers choose to book a guided tour from Marrakech, the groups depart for the desert in 4 x 4's. As the trip is long, they often incorporate stops along the way to the Unesco World Heritage site Ait Benhaddou, Todra Gorge, and the four-sided peak of Ait Bougmassa.
Dades Valley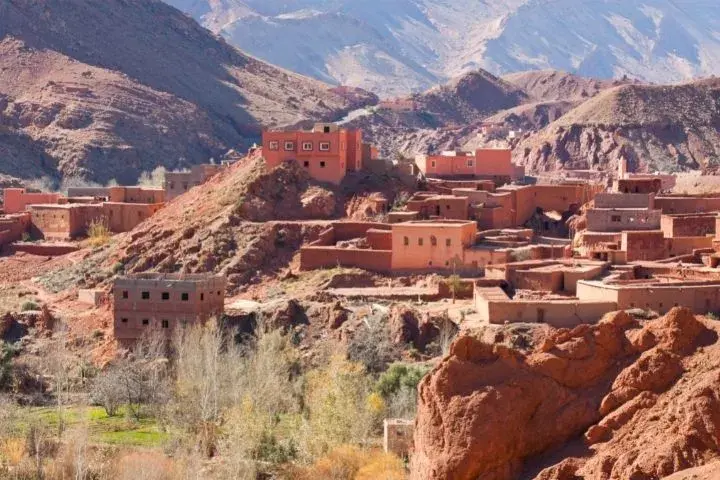 The Dades Valley is one of the most picturesque places in the High Atlas region. It's a great hideaway for hikers, trekkers & general nature lovers alike.
From the daunting High Atlas to the north to the rugged Jebel Saghro range south, the valley is dotted with oases and mudbrick palaces. Its nickname—Valley of a Thousand Kasbahs— comes from its countless kasbahs with its fairy-tale atmosphere.
The tiny villages in the valley are surrounded by orchards and farmland, which provides beautiful scenery during spring. The valley offers a sense of peace and serenity, a way to calm the mind amid the souqs of Marrakesh and Fes. Here, you can reconnect with nature & find your peace.
There are many places for day walks in the area, and many birdwatching opportunities.
Erg Chigiga
Erg Chigiga is the largest sand dune field in Morocco, located in the heart of the Sahara Desert. It stretches more than 50 km, with an average elevation of 300 meters above sea level. Unlike the more famous Erg Chebbi, this vast sand sea Saharan dunes are further southeaster.
Situated about 9 hours south of Marrakech, this fascinating destination offers a breathtaking view.
The region appeals to those seeking adventure, something unique, something off-grid. The starting point for Erg Chigiga excursions is the nearest town M'Hamid, from where you can head out into the desert. The ride requires a 4WD and takes you through sand, dried-out lakes, and rocky terrain.
M'Hamid has plenty of small nearby dunes, which make it easy to get a perfect sunrise or sunset view with camel treks.
Draa Valley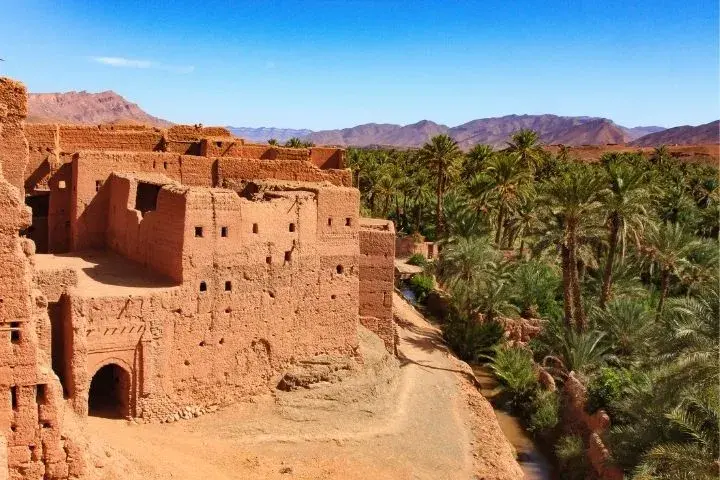 The valley links the southeastern end of the High Atlas with the desert beyond is a great place to escape and appreciate architecture and history.
When you take a trip to the high desert oases in Morocco, it's easy to find yourself surrounded by palm trees with beautifully preserved kasbahs & ksour, and their shady depths.
Stopping off at Berber villages along the way for taking pictures of the beautiful landscapes, admire the ancient ruins, which have survived for centuries thanks to their unique mudbrick construction.
Check out Kasbah des Caids in Tamnougalt, which has been used as a location in many Hollywood films.
Casablanca's Hassan II Mosque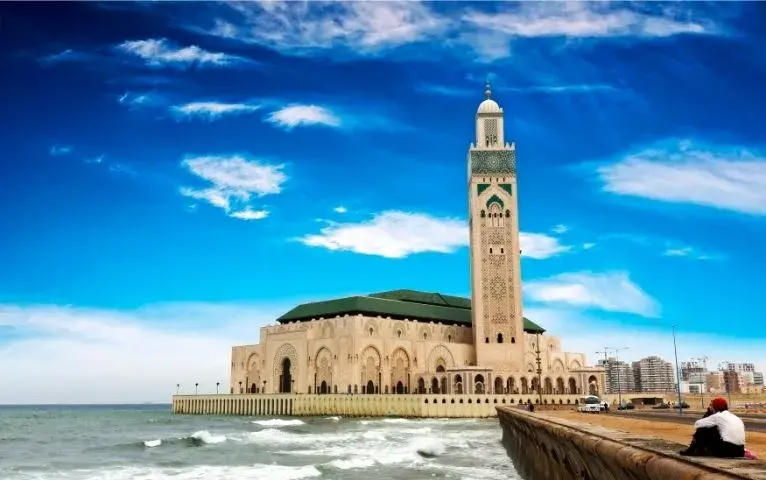 The Hassan II Mosque, Casablanca's major landmark building, is not only a symbol of the city but also the country itself.
This majestic mosque is a showcase of the finest Moroccan artisanship. 10,000 artists and craftsmen participated in building and decorating the mosque. It's a two-hectare site that has been finished since 1993.
The hand-carved stone and wood, intricate marble flooring and inlay, gilded cedar ceilings, and exquisite zellige (geometric mosaic tilework) can be found here. The location at the tip of the rocky cliff overlooking the ocean is sure to take your breath away.
In Morocco, this is the only mosque that non-Muslims can enter.
Read More:
Top-Rated Tourist Attractions & Things to Do in Casablanca


Rabat's Oudaya Kasbah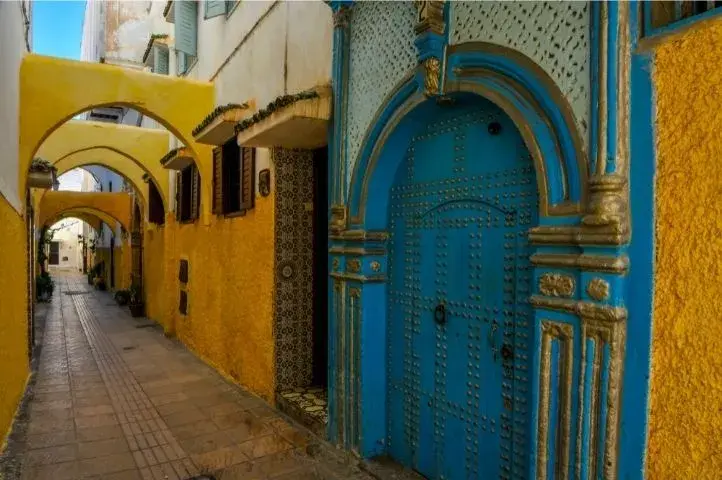 The Oudaya Kasbah is an ancient fortification, which was built around the beginning of the 12th century. It has been a hub for many famous people in history, including the French politician General Charles de Gaulle, philosopher Jean-Jacques Rousseau, and Spanish poet Antonio Machado.
One of the main features of this neighborhood is the impressive Andalusian Gardens which are perfect for relaxation, and are a popular gathering point for locals.
The narrow streets of the Kasbah residential architecture are lined with whitewashed houses and blue & white walls.
This peaceful Kasbah is a haven of tranquility, the landscape provides a serene escape from the hustle & bustle of modern life.
Bab al-Mansour in Meknes
One of the most important sightseeing and the major landmark you would not love to miss in your Morocco vacations. This gate is the most well-preserved historical structure attraction in Meknes.
Bab al-Mansour is a grand reminder of the sultan's power. It was built at the beginning of the 18th century and completed in 1732, during the glorious era when Meknes was Morocco's capital.
Its decoration features Almohad patterns, with a gold-colored gate, zellij mosaics, and marble columns that were taken from the Roman ruins of Volubilis, the outstanding monument of the Roman civilization.
The late afternoon, when the sun shines through and lights up the gate, is the perfect time to photograph, then you can head to the old medina, where you will find the interesting souk of Meknes.
Meknes is a vibrant destination that can be visited as a day trip or overnight stay from Fes. It has plenty to see & do, and visitors are often pleasantly surprised by its charm.
Volubilis
Morocco's most famous Roman-era ruin is a feast for history lovers and world travelers. They provide research material to scientists and historians.
Located between the Imperial Cities of Fez and Meknes on a fertile plain surrounded by wheat fields, the ruins of this ancient city always have an enduring power in their beauty, even when their once-great empires are long forgotten.
Its most amazing features are the many stunning mosaics tile work preserved in situ, and it was declared a Unesco World Heritage site in 1997.
When you pass through the ruins to the Capitol and Forum, there is a great vista of the site as well as a nice view of the surrounding countryside.
Volubilis is a beautiful monument that can easily be visited as a day trip from Fes or Meknes.
Chefchaouen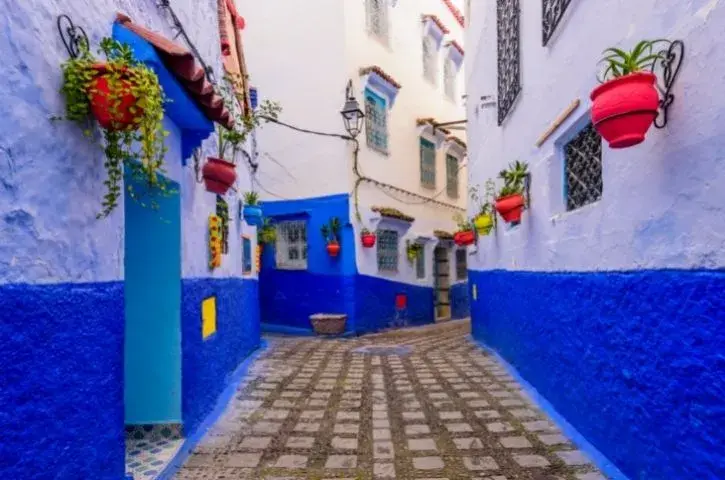 Chefchaouen is surrounded by the Rif Mountains, with blue-on-blue buildings, and has an incredibly photogenic glow that allows it to be a pop culture destination for tourists and locals alike.
A day in this blue mountain village is just about wandering through the medina alleys, seeing all that colorful architecture, and soaking up the nearby atmosphere.
The Medina will allow you to experience the local culture, as well as smell and enjoy delicious Moroccan dishes, from freshly baked bread to prepared tagines.
The city has managed to find the perfect balance between modern comfort and staying true to its history.
It is also one of Morocco's main trekking and hiking destinations and a starting point for Rif Mountain treks.
Rif Mountains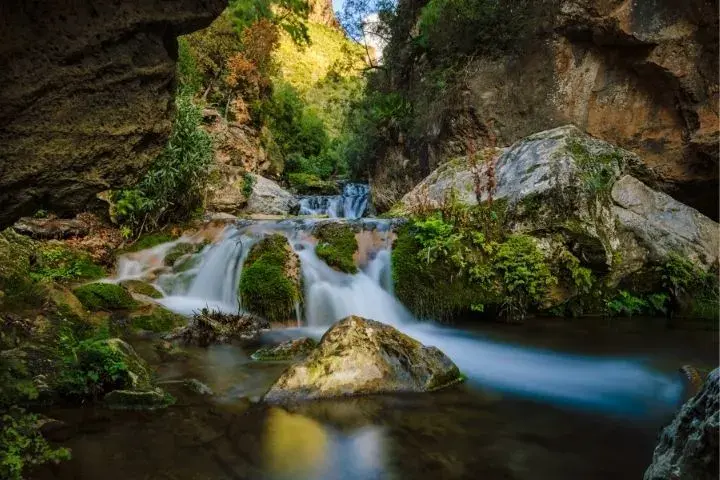 One of the most-visited parts of Morocco in the Rif Mountains, which have a diverse range of landscapes and climates. Unlike much of Morocco's mountain scenery with craggy peaks surrounded by palm groves and arid plains, the Rif mountains contain some vibrant patches of greenery.
This is an opportunity for hikers and bikers who look for a challenging environment, there are plenty of trails with varying levels of difficulty. It is also a good place for those just wanting a short easy walk.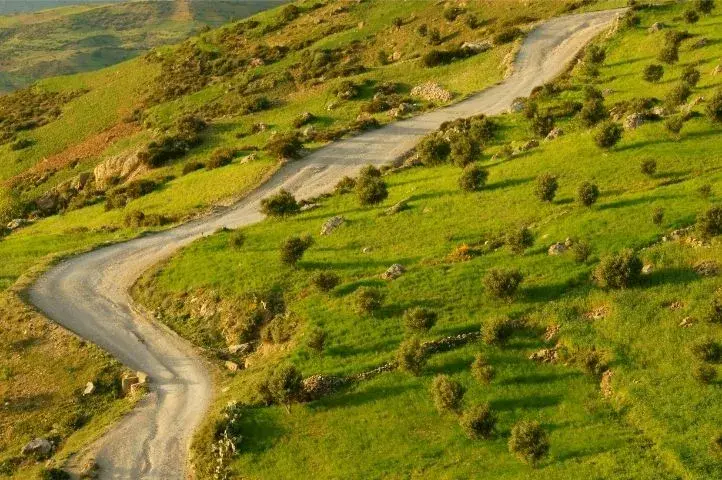 Tetouan and Chefchaouen are the main starting points from which to launch yourself exploring Morocco's Rif Mountains. Check out the epic nature of the Talassemtane National Park, a popular hiking destination known for its cedar and fir forest-covered mountain slopes and spectacular valleys.
Read More:
Top-Rated Attractions & Things to Do in Marrakesh
Top-Rated Things to Do in Morocco's High Atlas Region
Tangier
Tangier is Morocco's most European city, with regular ferry connections to Spain. It is a popular stop for travelers on their way to Morocco, as it offers a true taste of the country and its environment.
Tangier's role in literary history is intriguing. As a city for artists and celebrities, it also has a vibrancy that draws tourists in. Two famous works of literature were inspired by this vibrant city: The Sheltering Sky by Paul Bowles and Nak by William Burroughs.
Tangier has gone through many changes in recent years, but you can still find some of the romantic ruins that existed before time.
Its rich cultural diversity, a blend of romantic medinas and alleyways, vibrant landmarks like the Sidi Bou Abib Mosque, and gorgeous Mediterranean beaches, make it a great destination for all.
Tours & Excursions in Morocco
Visa & Health Requirements
Please make sure you check all the information you need to know about the passport, visa, and health requirements of your destination.
Check out all the data provided by IATA (International Air Transport Association)
Share This